Our last morning at the B&B we had breakfast and met new guests, an American army family stationed in Hanau. They were friendly and nice. It was fun to talk with fellow army people over breakfast.
After breakfast, we packed up our stuff and headed out. Since we were traveling back home that day, we didn't really have any plans. We decided to hang out in Glasgow for a while since that's the city our flight was departing from. We walked around the mall, where I saw this really cute teddy bear store that literally had piles and piles of teddy bears and stuffed animals. I had to take a picture!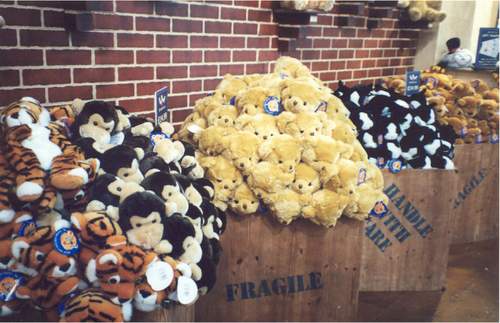 We went to Starbucks and Borders and walked around the city. We found a lovely, upscale shopping center called, "The Princes Center." It had a beautiful mosaic floor and warm, polished wood décor. We stopped in a place called, "The Whisky Shop," where a very friendly and knowledgeable employee helped us pick out our first bottle of scotch. I also was introduced to Drumgray Highland Cream Liqueur. Ambrosia! If you like Bailey's, then this stuff is pure heaven!
Our trip back was fairly uneventful. It consisted of the usual waiting around in airports and train stations. We hated to have to leave Scotland. Even just in Heathrow there was a definite difference in how people in general behaved. It seemed that as soon as we left Scotland, people became rude and annoying.
We had an amazing time in Scotland and would very much like to return. Our vacation was fun and relaxing. Scottish people are warm and friendly, and there are endless fascinating things to see and do. I highly recommend a visit there.