We decided that on Sunday, we would take our big trip up through the Highlands. We decided on our destination sort of by accident. I'm a big fan of the Outlander series by Diana Gabaldon, which centers around 18th century Scotland. The second book in that series deals with the Stuart uprising of 1745, the final battle of which takes place at Culloden. I jokingly suggested to Larry that we could go up to Culloden, since it's fairly far north and would take us through the Highlands, past Loch Ness, and up near the Moray Firth. Larry actually was interested in going, so the decision was made.
That morning we had breakfast, then headed out. It was a beautiful, crisp, clear morning. We were a bit surprised to find our car was frosted over! Actually, the whole time we were in Scotland it was cooler than I had expected it to be. It was nice, though.
We got underway and really enjoyed the drive. The Highlands are absolutely amazing and gorgeous! There is a definite difference between the Highlands and the Lowlands. Easter Glentore Farm B&B is located in Airdrie, which happens to be right about on the border between the Lowlands and Highlands. The Lowlands are rolling and green, more suited to farming. The Highlands are stark and dramatic, with sharp, tall mountains and a rougher countryside. I was surprised at how much water there was, in small pools here and there. Because of the coloring of some of the brush, it looked to me like it would be dry. Unfortunately the heather wasn't blooming while we were visiting. I would have liked to see some.
Not long after we started, we saw a road sign that said, "Beware of Oncoming Traffic in Middle of Road." That was one of many new ones on us! They weren't kidding, either. The road narrowed down to one lane into a blind turn. I honestly think it's dumb luck that keeps too many accidents from happening. All you can do is slow down and hope for the best.
A couple of other amusing traffic signs were, "Changed Priorities Ahead," "Calmed Traffic Ahead," and a sign that suggested, "Twenty's Plenty!" This last sign was in a residential area and 20mph could not be legally enforced. However, the residents could put the sign up as a suggestion to those driving through.
After we had driven a while, we passed by a large, beautiful lake. It was remarkably calm and flat, and truly looked like a mirror. The reflection on the lake's surface of the mountains and sky was breathtaking.
We saw a lot of neat and interesting things along the way. We saw Highland deer and sheep, both of which seem shaggier and more hardy than their Lowland counterparts. What was odd was that there wasn't always a fence to separate the road from the rough. We saw a sheep practically right on the road!
There were many people out hiking that day. Now I don't mean just out for a stroll in sneakers and shorts. These people were totally decked out with proper shoes and equipment. Apparently the Highlands can be pretty rough and a person is well advised to be prepared year round, regardless of the weather.
We saw a piper in full regalia at a turnout (or "layby" as they are called in Scotland) by the road.
I was actually a little bit surprised to see a big, official sign on the roadside that read, "Welcome to the Highlands" in both English and Gaelic. The farther north we traveled, the more Gaelic we saw on signs and buildings.
Another, smaller sign that made Larry and I laugh was, "Concealed Church." I suppose it was there to indicate that the church could not be seen from the road. However, it still sounded funny to us, especially since we had never seen that particular sign before.
After a while, we began to be able to see Loch Ness from the road. I must note that it was an absolutely gorgeous, clear, sunny, perfect day to be out for a long drive. Larry and I talked about how the connotations that go with Loch Ness are usually somewhat dark and dreary. We were both pleasantly surprised at how blue and pretty the Loch looked with the sun shining on it.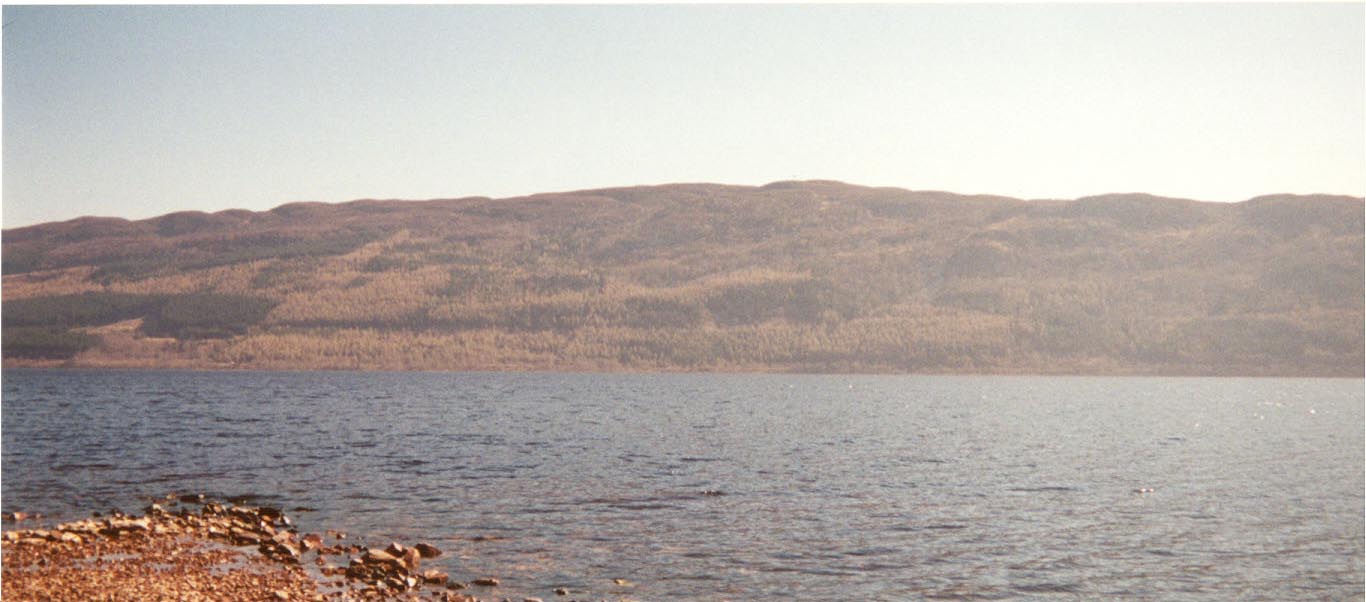 Loch Ness is actually extremely long and deep. It's about 23 miles long, and around 788 feet deep. It eventually empties into the ocean. And NO, we didn't see Nessie! However, there were plenty of tourist traps and boat tours along the way that were more that happy to help. However, Larry and I were not looking for Nessie. Our first stop was Urquhart castle ruins.
Click here for information on Urquhart castle ruins.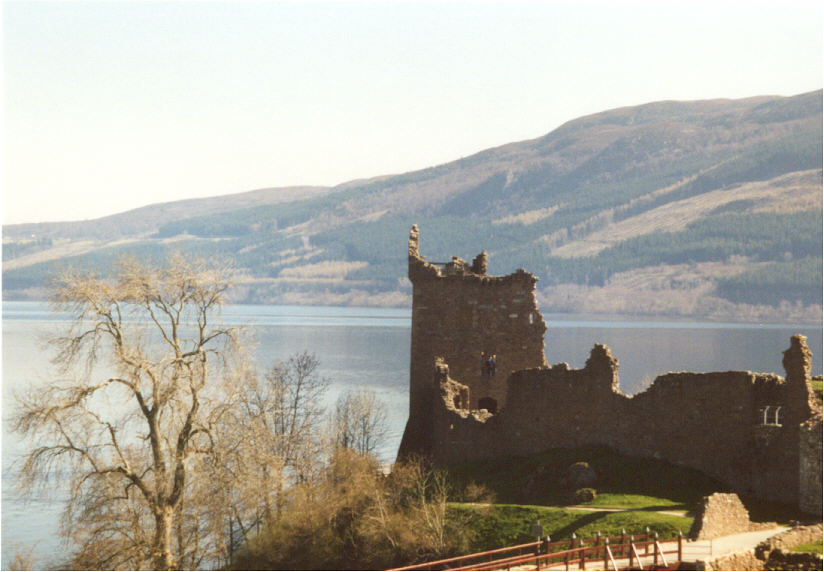 Urquhart castle ruins are right by Loch Ness. There is a very nice, newly updated visitor's center that has a gift shop, theater showing an informative video about the ruins, and café. We walked down to the ruins themselves. They are very impressive.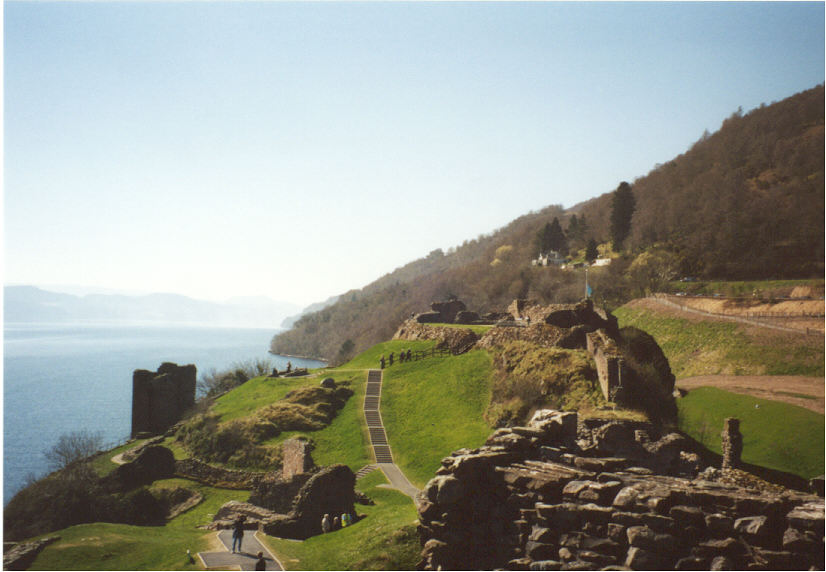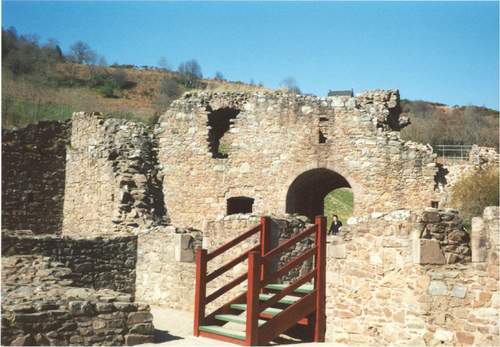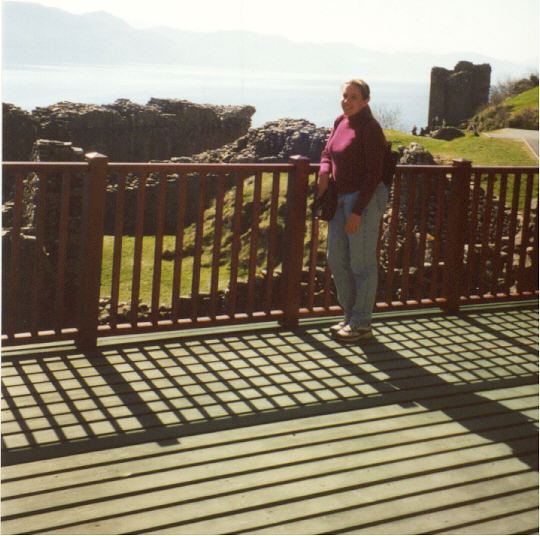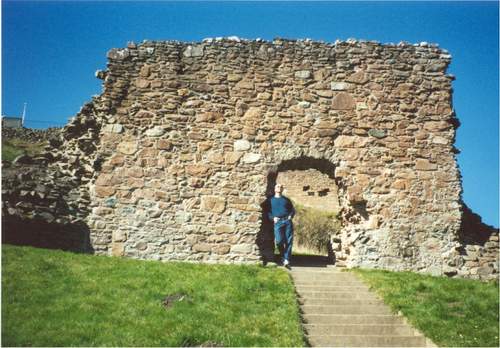 "Please Do Not Climb Over Wall Heads"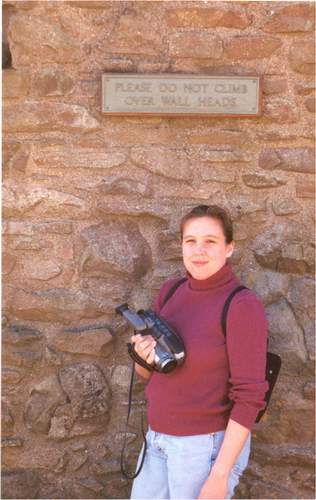 Larry thought this was really funny for some reason!
Another historic moment happened: Larry asked me to take his picture again! We both really enjoyed exploring the ruins. We may not have seen Nessie, but we did see a German man in somewhat traditional Bavarian clothing walking along the shore. I felt like Germany was following us!
After walking around the ruins for a while, we went back to the visitor's center. We watched the video, looked around, shopped a bit. We got a bite to eat at the café. I had bread and butter and orange/carrot/coriander soup. Definitely not a combination of flavors I'd ever had before! It wasn't bad though, just a bit different than what I was used to. The café overlooked the ruins and it was nice to sit and relax a bit before moving on.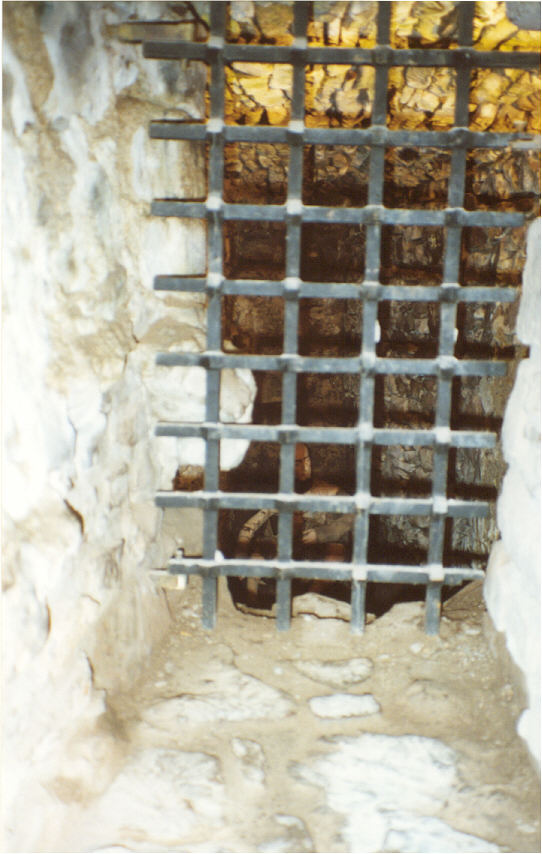 Prison cell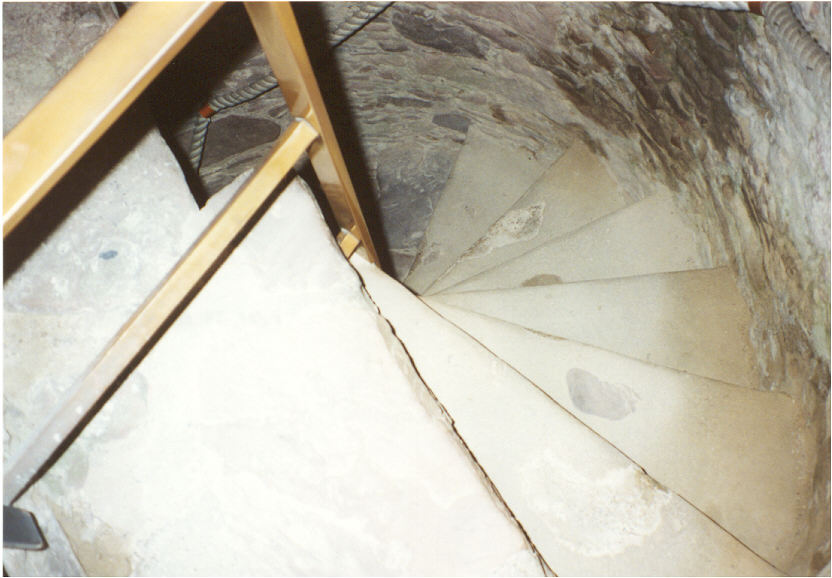 Tight spiral stairs were common in the castles we visited.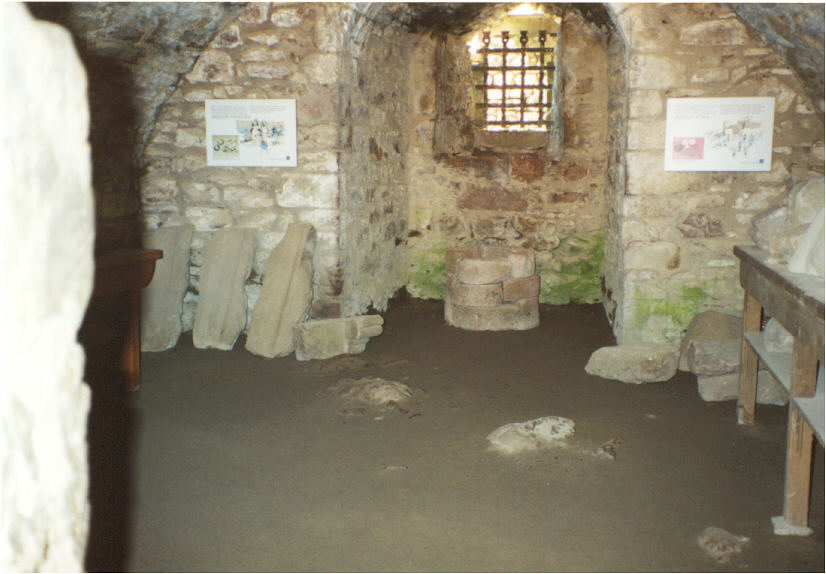 Basement
We continued north along Loch Ness, through Ft. William and Inverness to Culloden. At Culloden there was of course a visitor's center, complete with the video theater (the audio was available in English, Gaelic, French, and German), historical displays, and gift shop. I had to laugh when I saw Diana Gabaldon's books sold there. Another amusing item sold at the gift shop was a little plush, shaggy toy cow with the label, "Highland Coo," on it!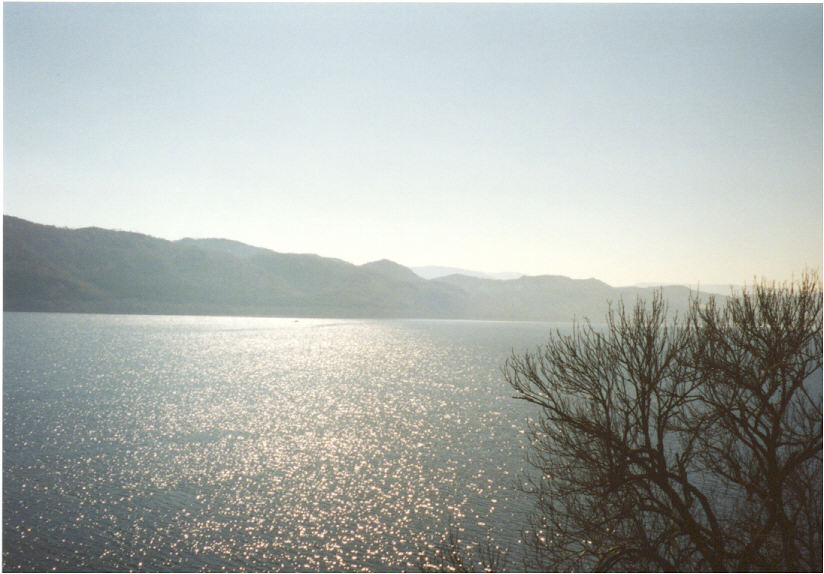 Loch Ness
There was a sign outside in front of the entrance to the grounds that said: "Dogs are not permitted on the battlefield." For some reason that really amused Larry! There was a separate path for people with pets. Actually, a lot of work goes into maintaining the field, to make sure it doesn't get overgrown. In addition to the people we saw clearing brush and weeds, sheep are kept on the grounds to help keep the fields clear.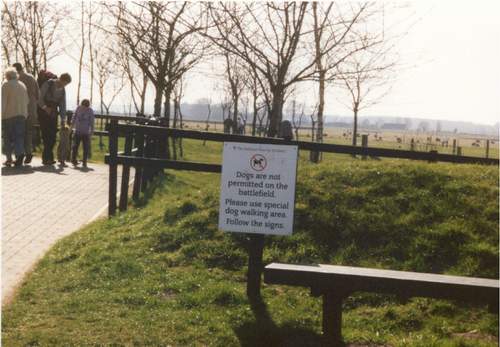 Dogs are not permitted on the battlefield.
We watched the video, looked at the displays, then went out to walk through the battlefield. The battlefield itself as well as the history behind it fascinated Larry both as a soldier and an historian. I was relieved that Larry felt that way, since we'd gone there on my suggestion.
Click here to learn about the battle at Culloden and the Jacobite Rebellion.
There was a cottage near the visitor's center that I unfortunately do not remember the exact purpose of. I do, however, have a sort of grisly picture (not shown) of a recreation of what the inside looked like during the battle.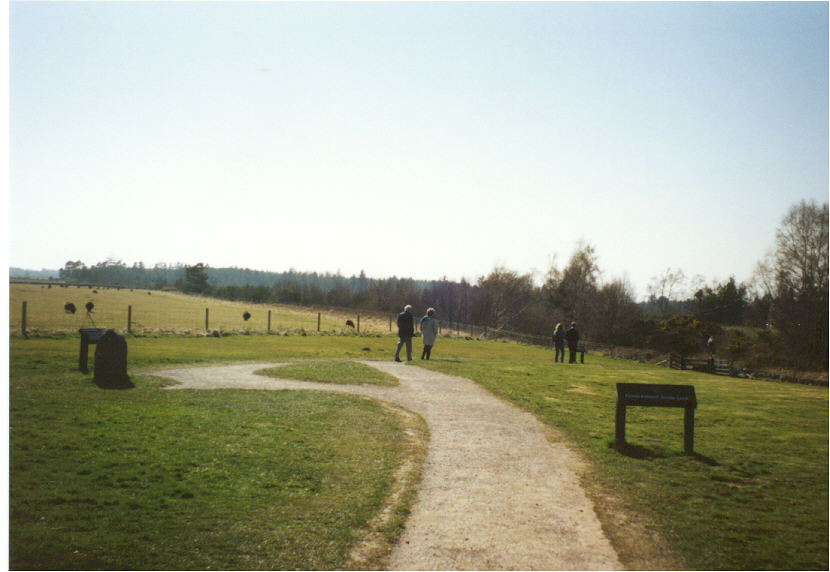 We walked all over the field, which was marked along the way with signs that explained each side's position and strategy.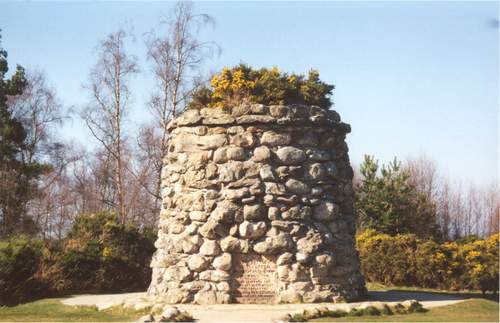 Monument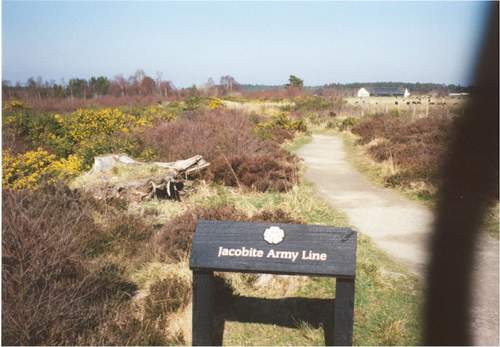 Please excuse the black bar in the photo!
We returned to the visitor's center and bought a couple of things at the gift shop, then headed back south for the long drive back to the B&B. After a while we got hungry. We were also tired from all the walking and driving. We drove through Perth looking for somewhere to grab a bite.
After we ate, we headed back to the car. I had half my body inside the car before I realized that out of sheer habit and tiredness, I had gotten in on the right side of the car! Since Larry was the one doing all the driving, he ought to have been on that side. We both laughed because we realized it at about the same time. We switched sides and continued on our way.
We got back to the B&B to discover Elsie had moved us back into our other room. She put everything away nicely so we didn't have to ourselves.
We relaxed and unwound in the lounge a bit. Elsie and Alastair came in to chat a bit. Alastair offered Larry and me a "wee dram" of scotch. Larry politely declined, but I couldn't resist having some scotch in Scotland! Alastair poured me a little bit, then poured some for himself, then poured a third glass which he handed to Larry. I looked at Larry and laughed and said, "Guess you're having some after all!" What made me laugh even more was the noticeable difference between the amount Alastair poured for Larry and the amount he poured for me. Larry's glass definitely had more in it!
It was really interesting talking with Elsie and Alastair. It's wonderful to be able to chat with people who really know the area and can give a real sense of the place. That's one of the great benefits of staying in a B&B instead of a hotel.
At one point, Alastair asked us what we thought of the NATO secretary general, George Robertson. Larry and I weren't sure how to respond. Alastair came to our rescue and told us the reason he asked us was because he's related to him!
We chatted a while longer and then went to bed. We'd had a very good, very long day.