The morning of Monday, April 8, was foggy, followed by a hazy day. After the long trip we'd taken the day before, we wanted to stay a little closer the next. After breakfast we went over to Stirling. There was an exhibit at a museum there we were interested in. Unfortunately, the museum was closed on Mondays, so we walked over to the mall and grabbed a mocha.
We went to see Doune Castle, which was only about ten miles north of Stirling. It was a bit of a trick to get to. It was off of a blink-and-you'll-miss-it side street on the right side of the road (remember we were driving on the left side).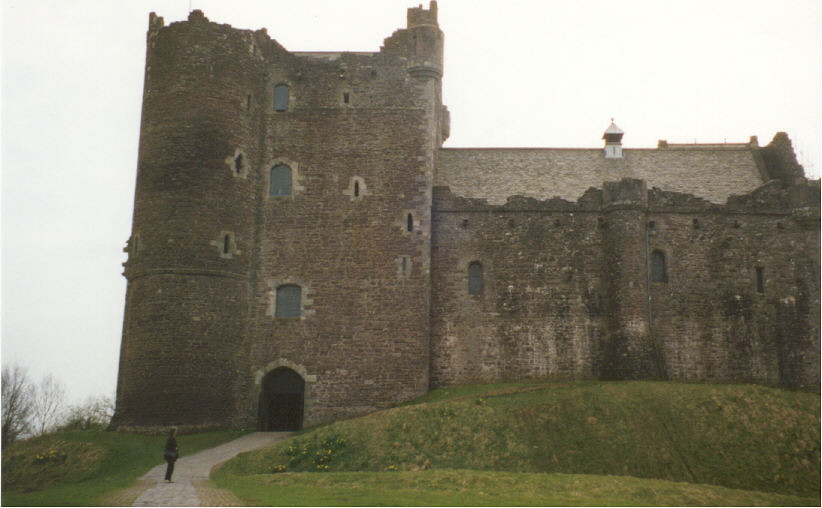 Click here to learn more about Doune Castle.
There was a small gift shop where tickets to the castle were also purchased. The staff was friendly and informed us that part of "Monty Python and the Holy Grail" was filmed there. Weddings also take place there and there was a photo album with some pictures from some of the weddings. They were fun to look at.
We walked around and explored the castle. It was interesting for Larry and me because each castle we visited was distinctly different and had its own flavor. Doune had a huge courtyard with nicely manicured grass. Seeing such a nice expanse of lawn brought out my inner child and made me want to run across it barefoot and do cartwheels.


There was access to the roof and a nice view to be had. Doune had the tight, narrow, spiral staircases that we'd seen at the other castles. I can't begin to imagine how servants went up and down them on a regular basis without dropping or spilling things all the time.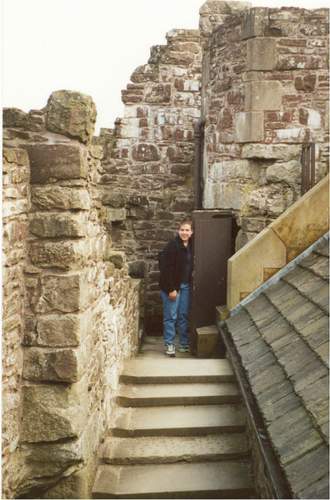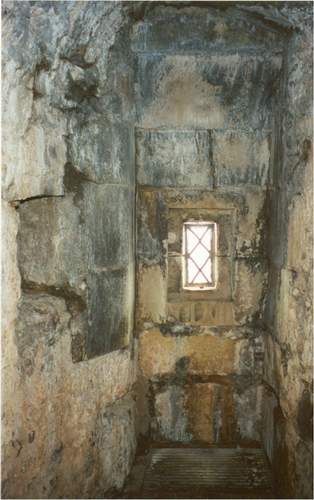 We stopped by the gift shop again on our way out. I fell in love with a little pewter box. It was round and the top of the box had blue satin beneath a lattice of pewter. It was quite pretty. Larry indulged me and bought it for me. I enjoy looking at it as a reminder of our trip.
From there we drove to Blackness Castle. We had a little bit of hard time finding it. It turned out to be back southeast of Stirling, right on the Firth of Forth. The day's weather went with the name of the castle. It was quite overcast and gloomy.
The castle itself was used as a garrison fortress and state prison. It wasn't turned into a monument until the 1920's. It was huge and had a lot to explore. There's also a jetty that goes out over the water and affords an interesting view of the castle and the general vicinity.
Click here to learn more about Blackness Castle.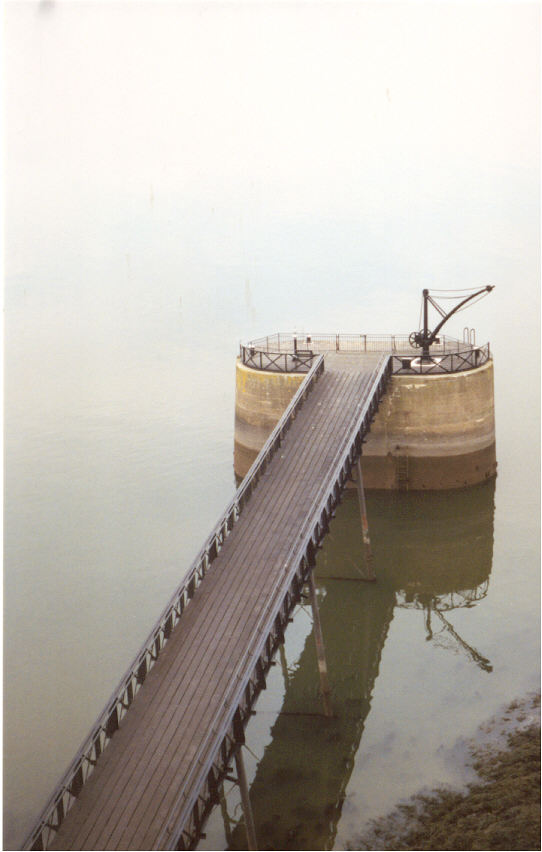 One of the places where the water meets the land sort of fascinated me. It was really strange. It wasn't like a regular shore of a beach or lake where there's a clearly defined place where water ends and land begins. Rather, the water gradually fades unevenly into wet ground until the water is no longer there. For some reason it made me feel weird to look at it.
After Larry and I had explored a bit, he asked me again to take his picture! I couldn't believe it. This made three times in four days! Speaking of photographing one another, Larry caught me off guard at Blackness. I had been videotaping our explorations and had lost of track of Larry. I went looking for him. I poked my head around the corner and FLASH! He nailed me with a perfectly silly expression on my face!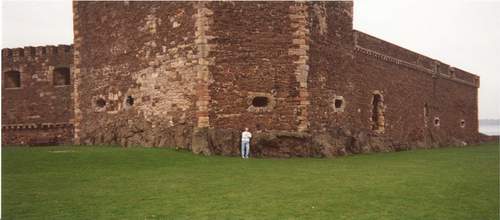 Yes, that dot in the middle is Larry!
To see that goofy picture of me, plus a lot more of Blackness, please click on the above link!
From Blackness we drove back to the B&B. I always enjoyed driving around while we were in Scotland because there were always new and interesting things to see, such as the countryside, people's homes, farms, animals, towns.
Once at the B&B we had our afternoon coffee and tea. It was something Larry and I were really getting into and quite enjoyed. I think Americans on the whole have their coffee breaks all wrong. Coffee breaks in the States are usually rushed and too short, often taking place in dreary back rooms or waiting in long lines. Larry and I found our afternoon tea and coffee breaks to be extremely relaxing.
There was still some day left, so we decided to head out to Loch Lomond. It wasn't far and the drive there was scenic. When we arrived, there weren't many other people there, so that was nice. Loch Lomond is a recreational area. Since we were there just a bit before the season started and somewhat late in the day, the visitor's center and most of the surrounding businesses were closed. We parked and walked a bit, enjoying the air and beautiful scenery.
I had to ask nicely for Larry to be in this one!
After our walk, we drove around the lake a bit. The sun was setting and the view was spectacular. Larry pulled over and stopped so I could take some pictures.


We turned around and headed to Stirling to find a place to have dinner. We wound up at a place called, "Paco's." We'd actually walked past it the first night we were in Stirling, but at the time it hadn't looked like much. When we went in, we discovered there was a lot more to it than we'd thought. There's a bar in front, which at that hour was pretty much empty. The back opened up to reveal a decently sized dining room where the restaurant was. The food and service were good and the prices fairly reasonable. We had a nice dinner.
After dinner, we filled the car up with gas and headed back to the B&B for the evening.