On the morning of the third day, we had to change rooms. In order for us to stay during the dates we wanted, we had to move to accommodate a previous reservation. The new room actually had a better shower, but unfortunately had two single beds. Larry and I pushed them together, but there was an uncomfortable spot in the middle.
At breakfast I saw a red fox running across a green field. It was pretty. One of the afternoons in the lounge, I came across a magazine article concerning the potential ban of fox hunting. I was always against fox hunting, but never realized the practicalities of those who are in favor of it. I am always on the side of the animal. However, it was eye opening to see another point on view on the subject.
Elsie came in to see what we wanted for breakfast. In the course of conversation, it came up that Larry and I were interested in researching Larry's Scottish ancestry. Elsie helped us out quite a bit. She showed us how to use some of the books she had listing clan names and their relation to one another. We'd had trouble finding anything in the past because we didn't know where or how to look.
Breakfast this time was a bit less elaborate. Larry and I just had bacon and eggs for the hot part of breakfast. Of course, I could not get enough of the scones!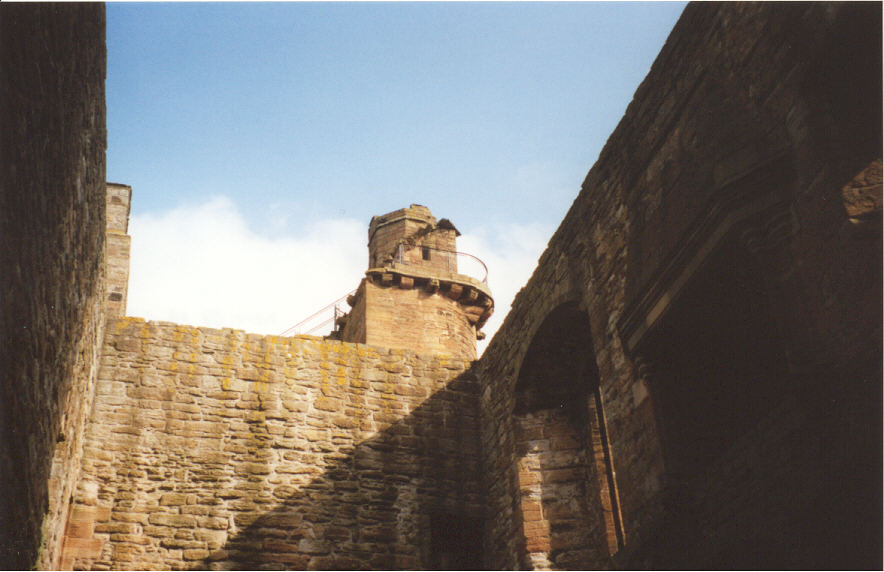 After breakfast, Larry and I drove to Linlithgow Palace ruins. They were really amazing! This was one of my favorite castles. I'm not sure why, exactly. It just spoke to me. One of the things that Larry and I really liked is that you could pretty much go anywhere. The only places that were barricaded were those that you really could fall quite a bit and get killed. Otherwise, it was wide open for exploration. That came as a refreshing difference from many places we've visited in Germany where you can't touch anything and half of structure is off limits or being renovated.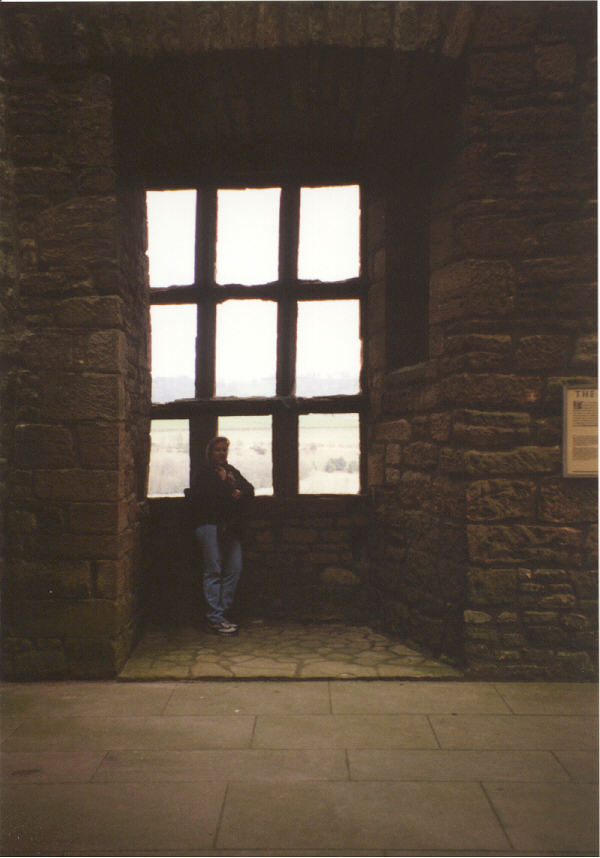 Linlithgow is best known as the birthplace of Mary Queen of Scots (1542). However, the first known reference to the palace dates back to November 1301. The English did hold the palace for a time, but it returned to Scottish hands in 1314 after the battle of Bannockburn. All of the Stuart kings resided there, and many renovations were made as each king had his own personal preferences for the construction of the palace.
Overall, the palace is built in multiple levels in a square, with a large fountain and a courtyard in the center. The palace is right next to Linlithgow loch (lake) on one side, and St. Michael's parish church on the other. Linlithgow is about midway between Stirling and Edinburgh.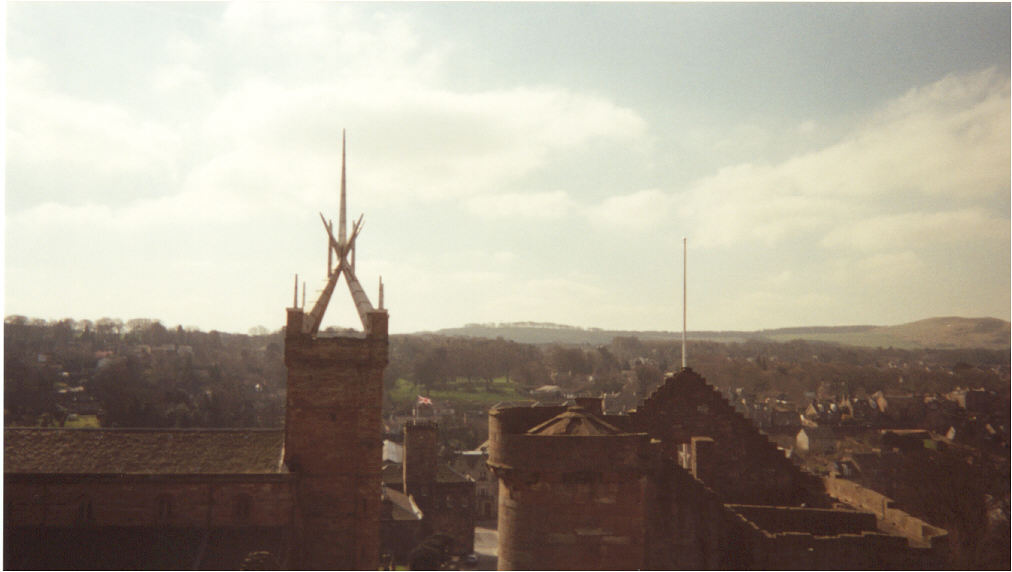 View of St. Michael's from Linlithgow ruins
It was windy the day we visited. I climbed up to the highest point possible to take a look around. There wasn't much of anything to keep a person from falling off except a small metal fence. I about gave myself a heart attack by accidentally stepping down into a gutter near the fence. I lost my balance and for a split second thought I was going over! The view was well worth it, though.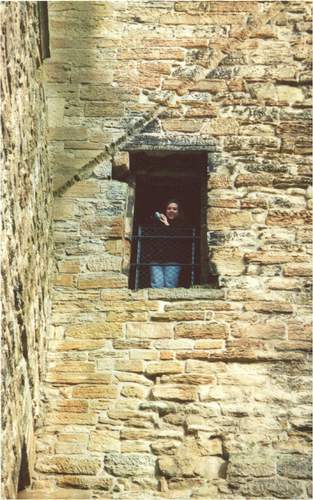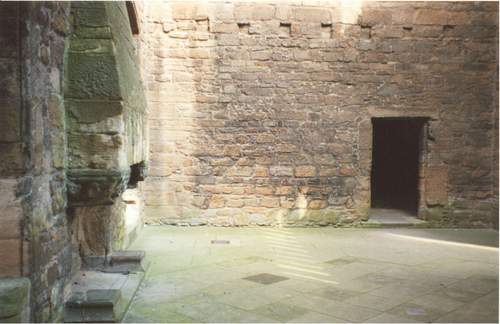 These windows reminded me of a skull.
Larry and I enjoyed exploring the ruins. It's strange, but Linlithgow in some ways felt very alive to me.
From there we drove over to Glasgow. Unfortunately, we got stuck in a "queue," or as those in the U.S. would say, traffic jam. We eventually did get to Glasgow and parked at the Buchanan Galleries, a mall parking structure, or "car park" as they are called here. We walked over to the tourist info. center at George Square and discovered there were no walking tours of the city. Worse yet, no ghost tours! We had really wanted to take a ghost tour while we were in Scotland. It seemed that we were there just a little too early in the season.
I was getting really irritable because my plan of a walking tour fell through, we were cranky from being stuck in traffic, and to top it all off we were getting hungry. We decided to try to find somewhere to eat. In the course of our wanderings, I took my first picture in Glasgow. Apparently it's a local tradition to keep the traffic cones on this particular statue. Originally someone put them there as a joke. Now it's a joke to remove them! If someone removes them, they are almost immediately replaced.
I was getting hungrier and moodier trying to decide where to eat. Finally Larry said, "Look." Behold, there was a Starbucks! Light shone down and a choir of angles sang! I hadn't been to a Starbucks since I'd left the States to live in Germany. We went right over there and got beverages and sandwiches. It felt good to be in a Starbucks again.
It just so happened that there was a Borders bookstore next door. After our lunch we went over there and spent a while browsing. I bought a book called, Memoirs of a Highland Lady by Elizabeth Grant and Larry bought a book on the Gaelic language.
I know we were there to experience Scotland, but the similarities to the U.S. (Starbucks and Borders) were comforting. I truly admire the early immigrants and anyone else who leaves their homeland permanently. I can only imagine. I live in little America on the post in Germany and it's hard. Maybe it's easier if one is fully immersed in the country and culture they're in, rather than living with one foot in and one out the way we do in Germany.
We walked around Glasgow a bit. It was a Saturday afternoon and the town was crowded and bustling. It was a nice day out. At one point there was a big, inflated NFL Europe sign. Members of the league were throwing footballs to kids who would try to throw them back at a particular target. We watched on the edge for a bit.
We walked back to George Square to catch a bus for a city tour. There were flowers in and all along the square that smelled wonderful. Their scent wafted on the air with surprising strength. I could smell them from the bus.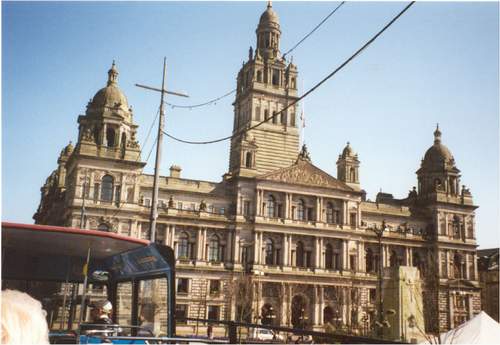 Part of George Square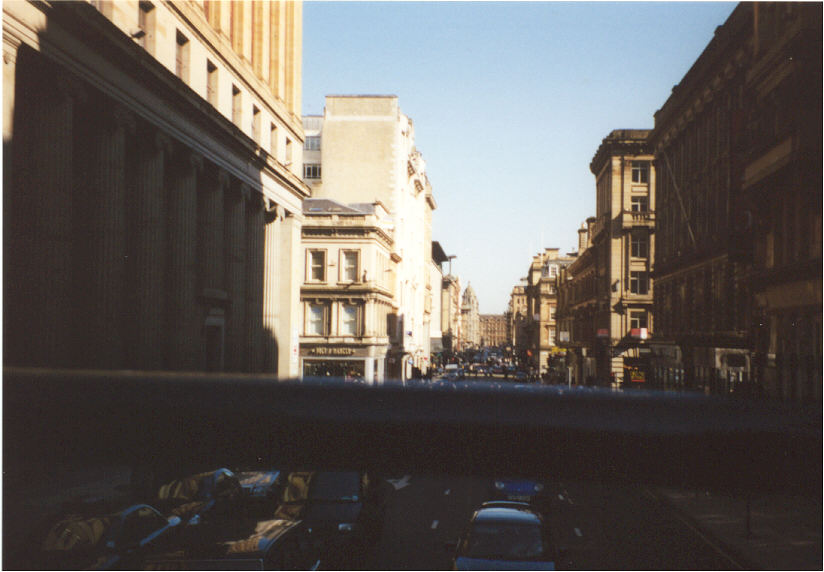 Please excuse the rails that appear in some of the photos.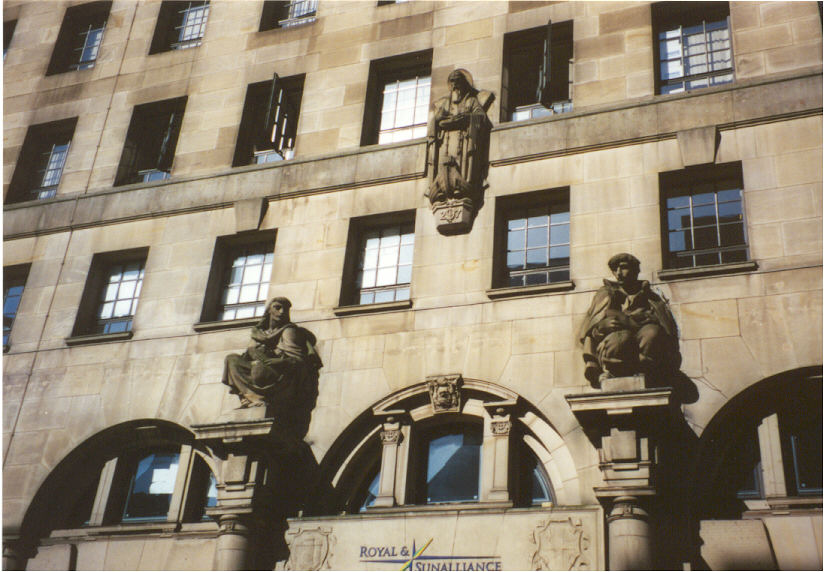 We sat on the open-air top section of the tour bus and enjoyed the ride. I took a lot of video while Larry took pictures. Larry did an excellent job getting good pictures from the top of a moving bus. I hate to confess that I don't know what a lot of the stuff is that we took video and pictures of, but it was on the tour and it looked cool!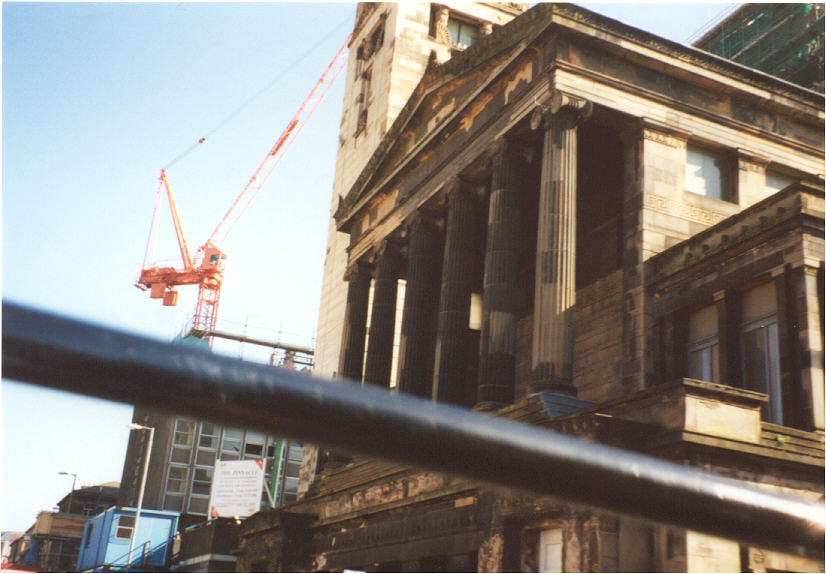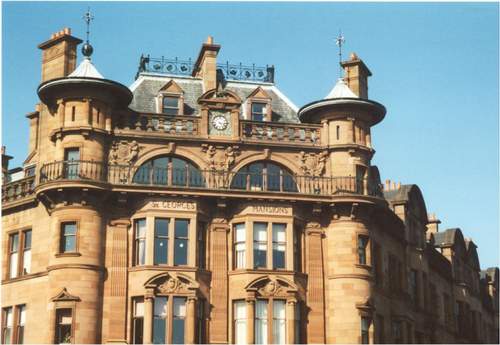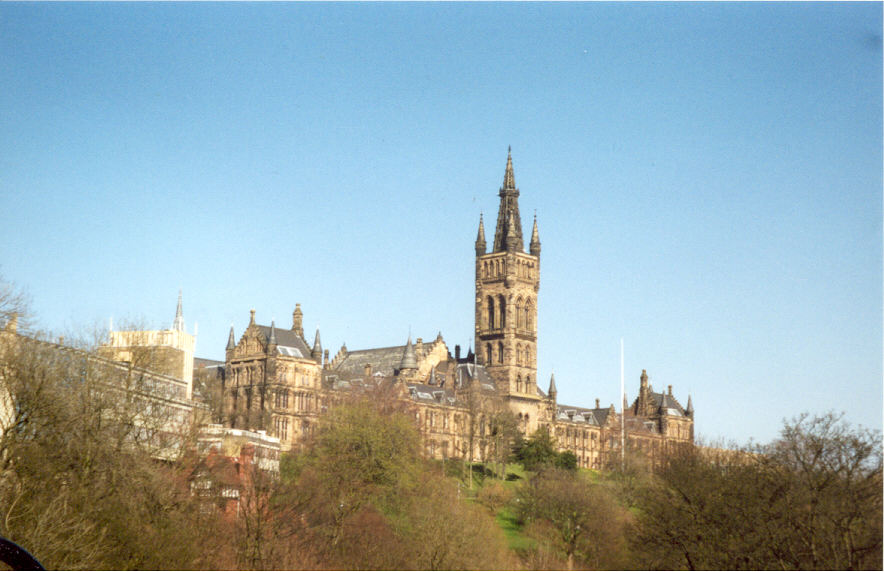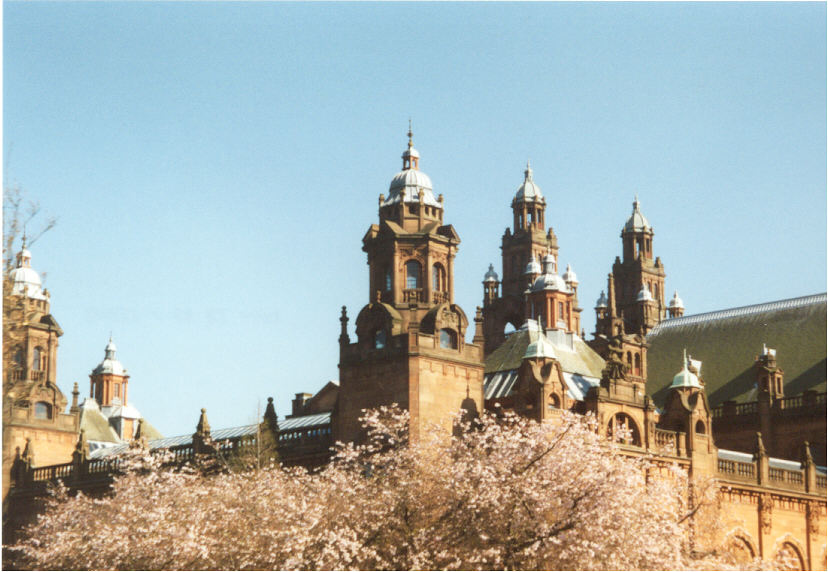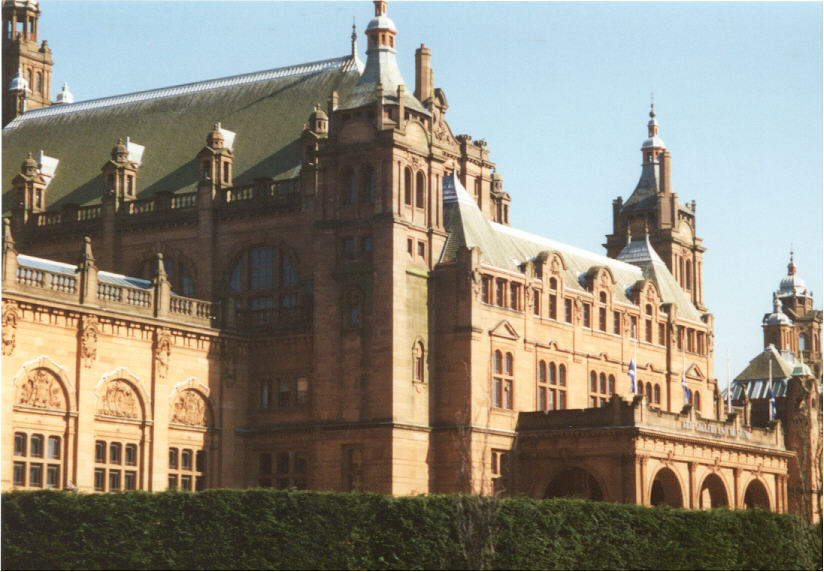 Art Gallery and Museum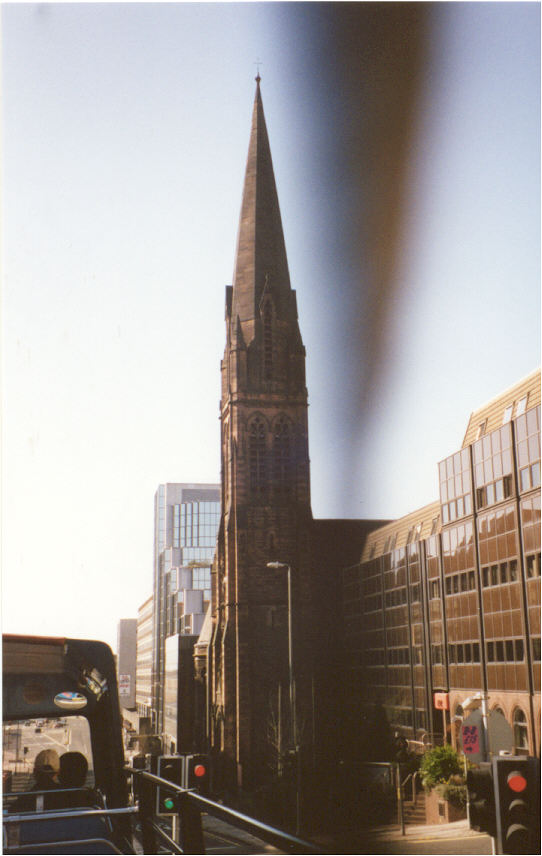 Please excuse the camera strap!
After the bus tour we hustled over to Glasgow Cathedral to see it before it closed. It is built in pre-Reformation, medieval Scottish style, but is not nearly as ornate as the Rococo catherals we've seen in Germany. The cathedral reminded me of a museum. It had a lot of interesting things in it, such as memorial plaques honoring individuals and families. There were also tapestries and historical displays. It had several different sections, and plenty of beautiful stained glass.
We almost missed our chance to get the coins we'd been collecting from various Scottish historical sites. The lady who sold them had closed up her register, but was friendly and willing to open it back up so I could purchase the coin.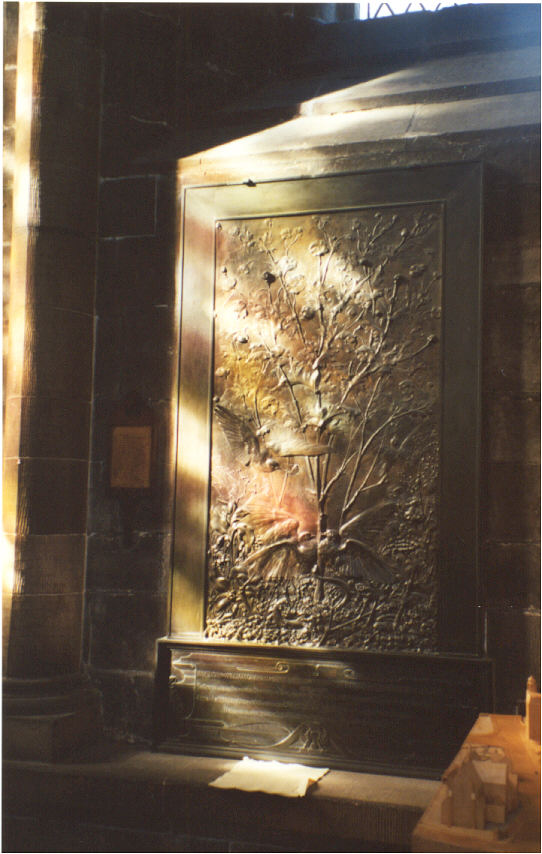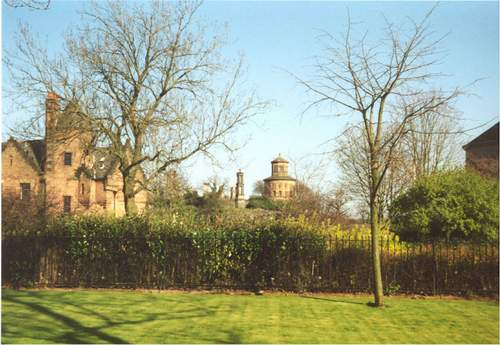 We caught the bus back to George Square and had dinner at TGIFriday's. We happened to be seated near several members of the NFL Europe team, the Scottish Claymores. (I was a little surprised that many of the team members were American.) They wound up providing us with quite a bit of entertainment. They bet one of their teammates that he couldn't go outside and get a woman off the street to kiss him within five minutes. (I don't remember what the stakes were. Nothing too serious, though.) The guy went outside and the entertainment began. There was much egging on from the inside and much balking from the outside. Eventually a woman that was sitting behind the Claymores went outside and kissed him. The teammates of course said it didn't count. A good time was had by all.
After dinner we hit Starbucks again, then went back to the car. We drove around a bit and got gas before heading back to the B&B. We relaxed in the lounge a bit, then went to our room.