Our first morning there, we got up and went to the dining room for breakfast. There was a very nice spread, including coffee, tea, fruit, cereal, yogurt, and something that resembled a rice cake made out of oats, which I mistook for oatcakes. (I later found out that oatcakes are actually wafer thin.) On the dining table itself was a tray with butter, jam, marmalade, orange juice, cream, and sugar. All that was before we got our hot breakfast! Elsie made us a traditional Scottish breakfast, including eggs, thick bacon, sausage, cooked tomatoes, cooked mushrooms, and of course, haggis. Haggis is difficult to describe to one who has never seen or tasted it. It's sort of a sausage, only not in a casing. It's made of lamb and various spices, and what all else I'm not sure. I gave it a taste so I could say I went to Scotland and had haggis! It wasn't all that bad, but it wasn't something I particularly cared for either. On top of all this, we also had oatcakes, and warm, freshly baked scones. The scones were soft, fluffy, melt-in-your-mouth delicious! I could have eaten just those with butter and jam and been plenty happy!
Elsie talked with us a bit, asking what our plans were. She had a lot of helpful suggestions. I mentioned that I enjoyed seeing the lambs around the countryside. She invited me to see their lambs later. I was thrilled!
Larry and I were interested in seeing the major areas concerning William Wallace. The location of the B&B where we were staying turned out to be quite convenient and central to most of them. So after breakfast we set off to Bannockburn, where Robert the Bruce defeated King Edward II's army Midsummer's Day, 1314. There was a visitor's center that included an historical display, a gift shop, and a small theater that showed a video on the battle at Bannockburn.
After watching the video and looking around the visitor's center, we walked out to the actual monument itself. We met a cute little black and white dog named Sally, who belonged to one of two very friendly older ladies out for a stroll, both dressed in red coats. It was nice to be warmly greeted by locals.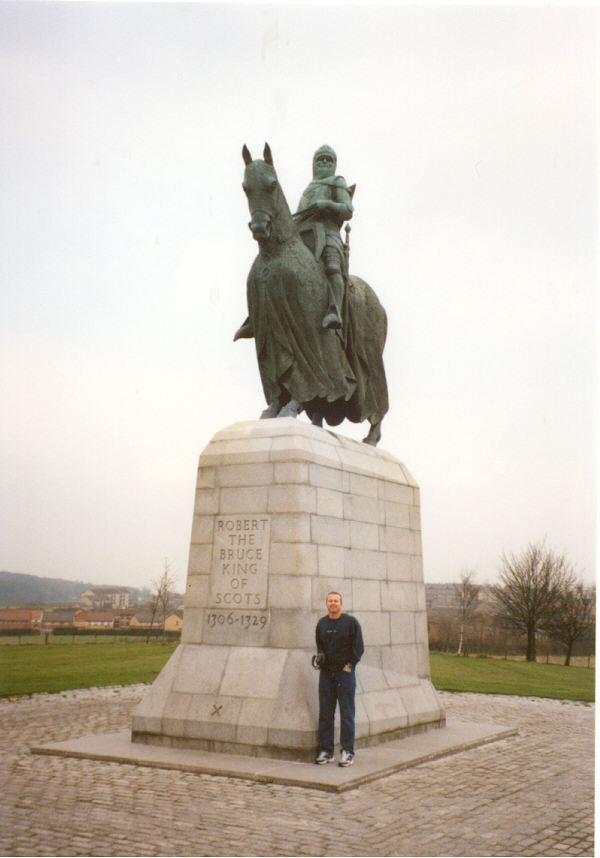 Robert the Bruce Monument at Bannockburn
At the monument, an historical moment occurred: Larry actually asked me to take his picture! Now I must say, Larry is normally one of the most camera shy people you will ever come across. I was shocked, but happily took the opportunity to take a picture of him by the monument!
Next, we drove over to the Wallace Monument. The monument itself is set up on a hill. At the base of the hill are parking, and a small souvenir shop where tickets to the monument are purchased. Also there's a statue of William Wallace that bears a striking resemblance to Mel Gibson! The statue was erected not long after the movie "Braveheart," was released. According to one of our travel guidebooks, the locals took exception to the statue's visage, and beheaded it! The statue was all in one piece when we saw it.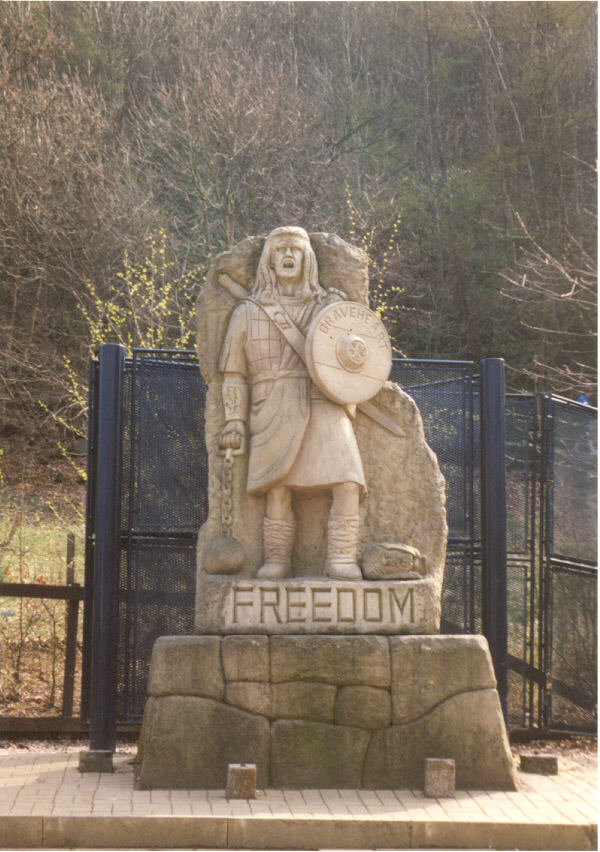 We purchased our tickets and started up the long walk to the monument's entrance. Once actually at the monument, it was a long climb to the very top, 246 steps to be exact. The monument is 220 feet high at the top, and was opened in 1869. The way up was by an extremely narrow, steep spiral staircase. It was so narrow that if one person was going up while another was going down, one of the people would have to back up to a landing in order to let the other go by. I was pleasantly surprised to discover people were very polite about this.
The monument had three levels. Each landing on the way to the top opened up to a chamber filled with historical information and displays about William Wallace and his part in Scottish history. One level even had William Wallace's two-handed broadsword. There was a video reenacting his Westminster trial, and a Hall of Heroes with busts of various famous Scots. We quickly learned that although "Braveheart" was a wonderful movie, it wasn't very historically accurate!
As we made our way up towards the top, there were narrow slits in the outside wall of the stairwell that let light and air in. The higher we went, the more windy it became.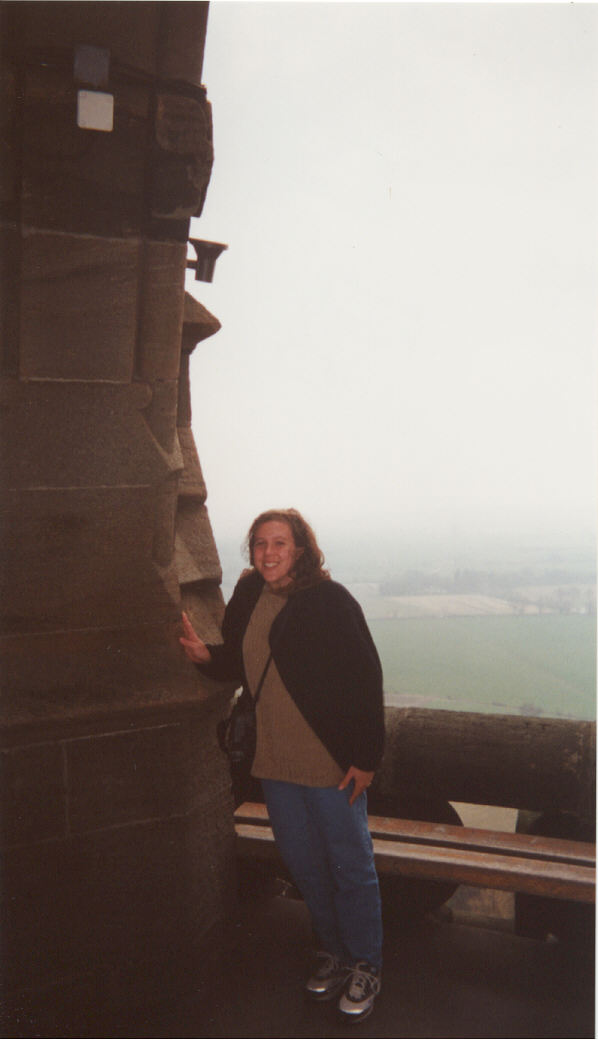 What I found most amazing was being outside at the top of the monument. It was extremely windy, and very high up. Being up there was really exciting to me. Larry doesn't exactly like heights, so he didn't find the visit to the top as enjoyable as I did. He started back down while I stayed a while at the top. The view was amazing, as was the architecture of the monument. I had to have someone take my picture up there. I asked a very nice couple to take my picture. They were very friendly and obliged.
On the way down we got a couple of souvenirs. We started our collection of Scottish walking stick badges and commemorative medals. Larry got a mug, and we picked up a couple of other small items. We didn't want to go crazy since it was only our first full day in Scotland.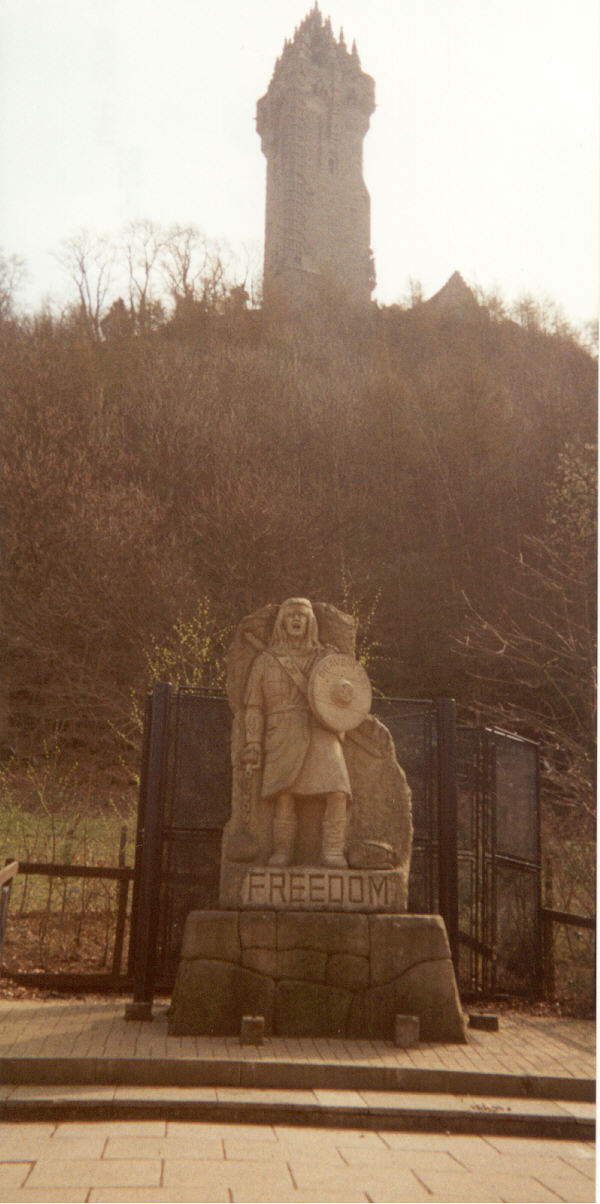 After our visit to the monument, we went to Stirling Castle. I'm afraid I only have one photograph of this castle. I think that's because I was videotaping mostly, instead of taking photographs. At some points during our vacation, Larry took over photographing so I didn't have to do double duty as videographer and photographer.
Castles in Scotland are much more in keeping with what usually comes to mind when someone says, "castle," instead of the Rococo craziness of the "castles" in Germany. Scottish castles look more like our stereotypical image of a castle, with greyish bricks and battlements and turrets.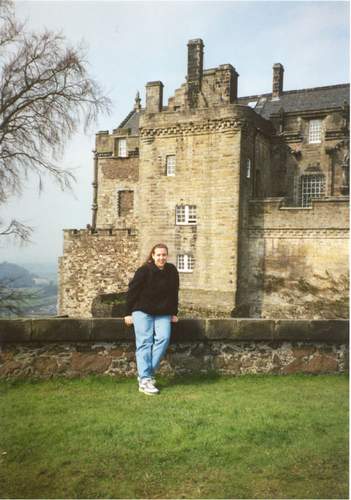 Stirling Castle is huge. There is a lot to see and we spent quite a bit of time there. The castle was a favorite residence of many Stuart monarchs, and was also a part of key military strategy during the Scottish wars of independence during the 13th and 14th centuries.
Along with almost the entire castle being open to the public, there was also a café, bookstore, gift shop, and visitors center.
After our visit to the castle, we went over to the mall. We were looking for an adapter so I could recharge the battery on the video camera. I hadn't been to a mall since September of 2000, so it was actually a sight for sore eyes! Larry and I found a coffee shop in a tiny corner of a department store and relaxed while sipping mochas. We talked about how the culture in Scotland is so much closer to that of the U.S. than Germany's culture is. I don't get homesick often. Sitting there in the mall though, I realized that I did miss home. I missed always knowing how to act and what to say and understanding the subtle nuances of behavior and language. I always have to follow that with the statement that I do love living in Germany and it's an amazing opportunity that I am thankful for every day. However, sometimes I just miss home.
We took a walk to the bus station and train station to see what our options were. We wanted to go to Edinburgh at some point and had heard that parking was a nightmare. We enjoyed driving around, but we wanted to be prepared.
After that, we drove around a bit before heading back to the B&B. Once back we had our afternoon coffee and tea. I am convinced that if everyone took a break in the afternoon for a relaxing mug of tea or coffee and some biscuits, that the world would be a much calmer, more relaxed, peaceful place.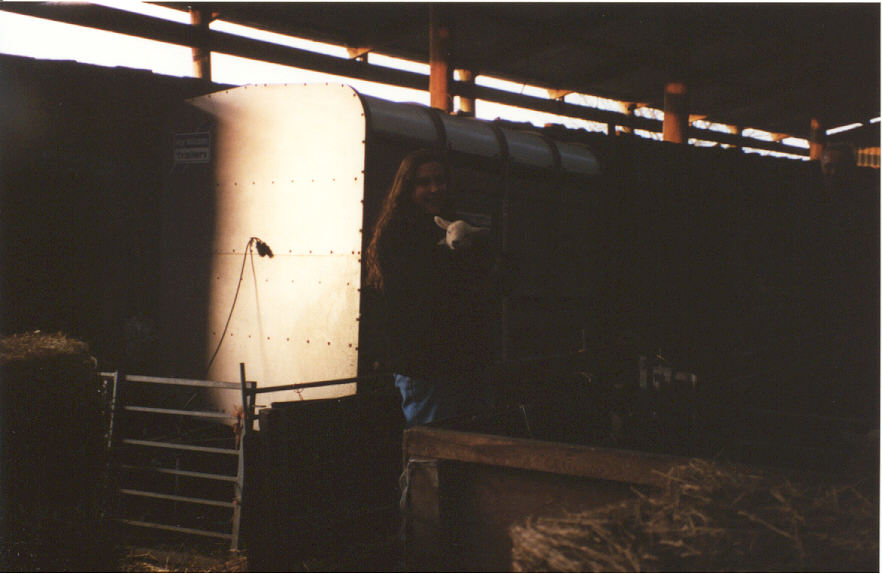 After tea, Larry and I got to see the lambs. I was so excited! I got to hold one. He fell asleep in my arms and I held him until my arms started to fall asleep, too. I must say it was so amazing to hold that little lamb. It was a very special experience for me. At that moment I swore I would never eat lamb!
While we were out there we talked with Alastair and he told us about sheep and about the farm and the origins of the B&B. It was quite fascinating. I only wish I had been recording it so I could remember it all.
Afterwards, Larry and I went back to our room and had a cookie from the tin we'd gotten at Stirling.
It felt so good to be away from everything; work, the army, Germany, stress, even the tv and computer. We were truly on vacation.
Actually, I felt comfortable from the moment I set foot in Glasgow.