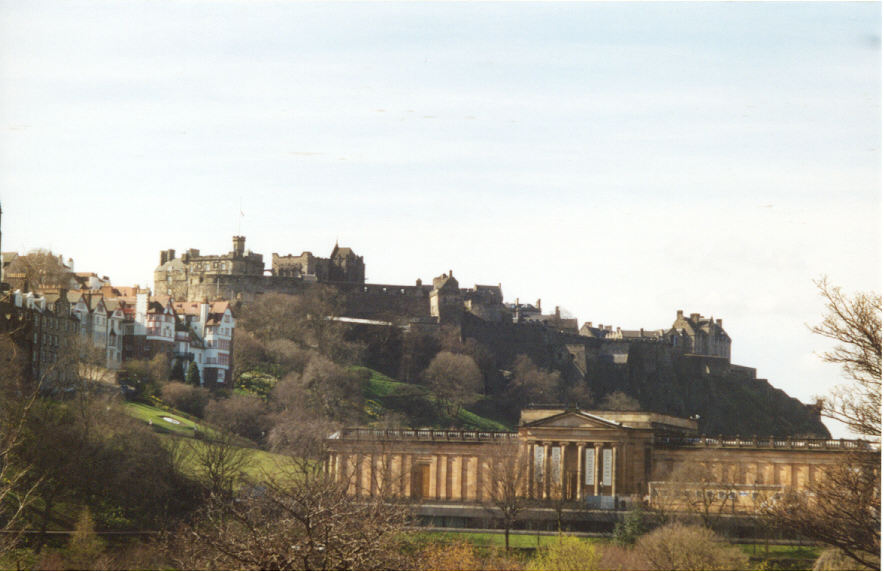 Tuesday, April 9th, was our last full day in Scotland. At breakfast we had the company of a couple from Holland. They spoke English and were nice. We saw their car in the driveway the night before and noticed the driver's side was on the left. They said it made driving in Scotland very interesting!
Larry and I decided to spend the day in Edinburgh. We wound up driving. Traffic in the city was definitely crazy! We found a place to park in a mall's parking structure. We made our way through the mall to the street and began to head towards a main square.
Right away we were fascinated by the city. It's so old, yet has such an amazing energy. The city felt very much alive to me.
We walked to the tourist information center, then found our way to a sort of terrace with a good view of the city. There was a lone piper on the street corner in full regalia. He and his music quite added to the ambience!
We took the bus tour of the city. It seemed like a good way to get a general overview of Edinburgh. The tour was fun. The tour guides were friendly and had many entertaining stories to tell. Larry took lots of great pictures from the top of the bus.
Click on the above link to view our additional photos of Edinburgh.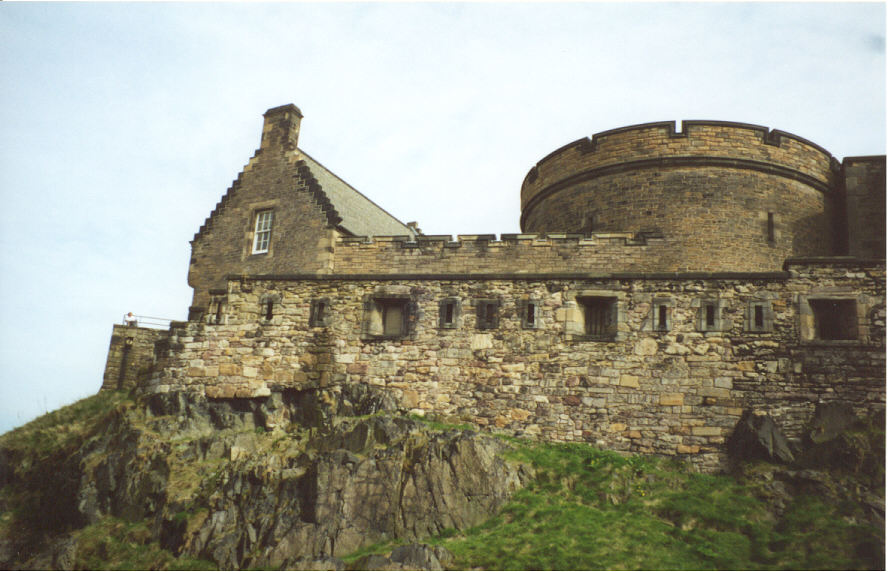 After the bus tour, we went to Edinburgh Castle. The castle was huge! We took a guided tour that was interesting and quite informative. There was a lot to see in addition to the castle itself. There was a Scottish war memorial museum, a chapel, barracks, more museums, and battlements with cannons. The castle also had several gift and bookshops scattered throughout its grounds, with the main gift shop near the entrance. In the gift shop, there was a banner with a Scottish toast:
Here I am with glass in hand,
Drinking to my native land.
Join with me and drink the toast
To the land that is our boast.
Drink it in the Highland Dew
Here's to me and here's to you.
We picked up a few souvenirs, of course!
There was also a café, where Larry and I grabbed a bite for lunch.
Click on the above link to learn more about Edinburgh Castle.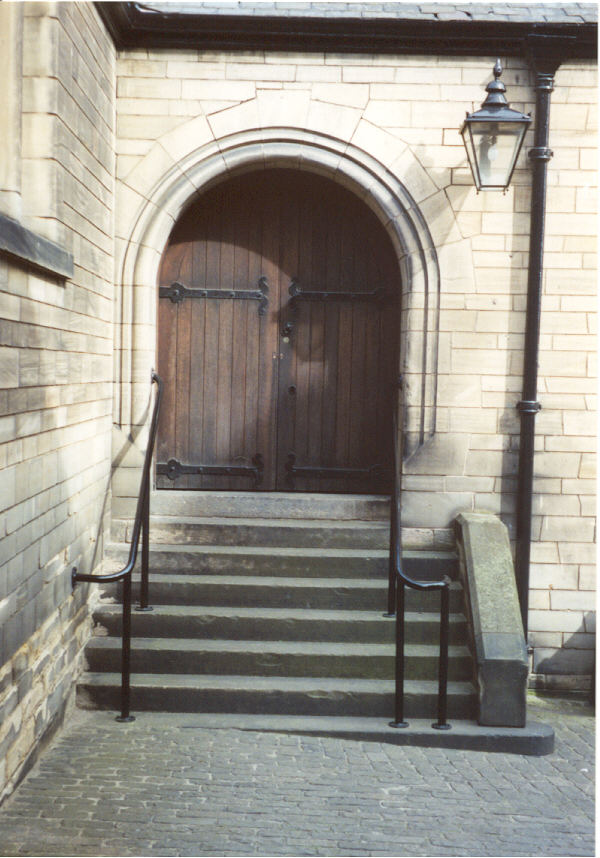 It so happens that I have a sort of fascination with taking pictures of interesting doors that catch my eye. At one point during our visit to the castle, Larry teased me and said, "Oh look! A door!" and took a picture of it. Actually, the picture turned out quite well, even though Larry was mainly just giving me a hard time!
From the castle, we walked around a bit, just taking in the sights and the atmosphere of the city. We looked around a wool shop specializing in tartan and kilts. I had to go into a shop that sold Walker Shortbread cookies! We also went to a Starbucks and relaxed for a little while. (There are actually several Starbucks in Edinburgh. I think I counted about five of them!)
The streets in Edinburgh were really amazing! Off the main road there were many "wynds" and "closes," narrow alleyways leading to hidden shops, cafes, and interesting views. I really wished we'd had time to explore some of them.
We caught the bus back over to the square, and walked over to the City Art Center to see, of all things, a Star Wars exhibition! It was actually quite interesting and fun. There was a lot to see and many of the exhibits were interactive.
We had dinner at the Hard Rock Café. While waiting to be seated, I actually ran in to someone from our army post in Germany! I thought that was pretty crazy, considering all the countries in the world, cities in Scotland, and restaurants in Edinburgh. I mean, the odds are pretty high against seeing someone I know!
Larry and I had a great time. There was definitely much more in Edinburgh than we could possibly see in one day. We would love to come back sometime and spend several days there.
After dinner we went back to the B&B and had a wee dram with Alastair.