Larry had to report to the gym in the wee hours of the morning. Family members were welcome to wait while the soldiers made final preparations to deploy. Originally I was not going to go, because Larry and I both thought it would be too hard on us emotionally. However, one of Larry's coworkers was kind enough to loan his cell phone to me for the duration of the deployment, and I had to come to the gym to get the phone.

I can honestly say that was one of the worst nights of my life. Waiting around for Larry to leave, snatching moments together here and there, was absolutely heart wrenching. There were other spouses there as well, and we were all doing our best not to break down and cry the entire time.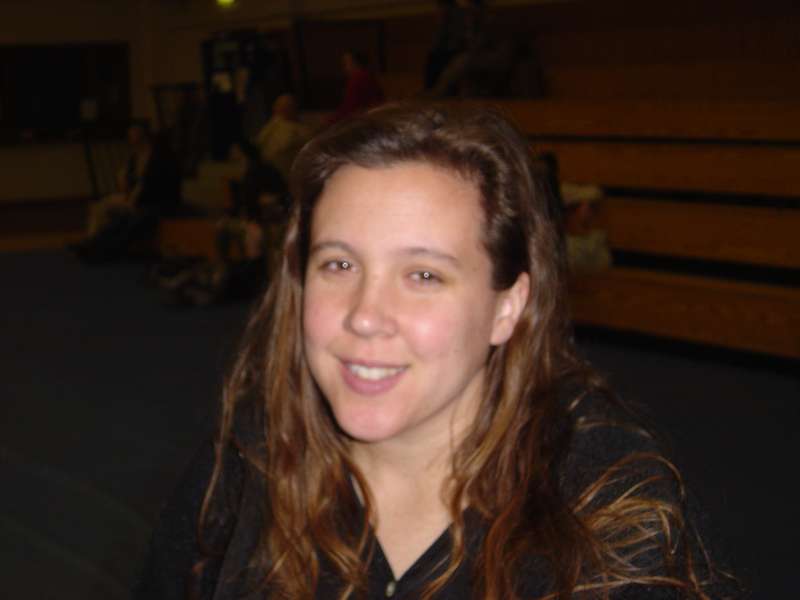 The only reason I am smiling is because these photos were taken with the camera Larry was taking with him to Iraq.
I had gotten to the gym around 3:30am. By the time Larry left, it was somewhere around 7am. I was completely drained both physically and emotionally. I went home in a daze and stayed that way for the next few hours.
I very much believe that there is a Murphy's Law governing things that happen right after one's spouse deploys. When Larry deployed to Kosovo, the lock to our apartment broke, leaving me to wait for a locksmith at around 4:30am with Larry on a bus beginning his journey. This time, I innocently went out to grab some lunch to go, and when I came back, the kitchen window had completely fallen off and was laying across the sink. What made the situation even more interesting was that a blizzard had begun outside. Luckily, the direction of the storm was parallel to the window, so not too much of it came in. However, it was very cold outside and the temperature in the apartment was quickly dropping. I called someone to come fix the window, and it was done within an hour and a half. I was a bit sad because although I was lucky and not much broke, a casualty of the window falling was a beautiful Classic Pooh teapot that I really adored. At least the window itself hadn't broken.