It was good to be back in my home state after living abroad for five years. Ryan and I spent a lot of time just relaxing and hanging out with friends and family. It was great catching up with people I hadn't seen in a long time.
We went for a lot of drives, took a lot of day trips, and even did an overnighter in Lompoc.
Our first trip was on May 14, to the Renaissance Faire in the Santa Fe Dam Recreation area in Irwindale, CA. I had been to the Faire many times in the past, but this was Ryan's first time. He seemed to enjoy the colors and people and general atmosphere.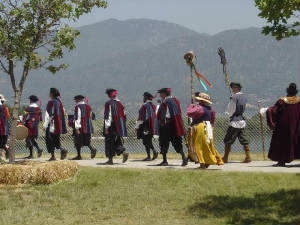 On Thursday, May 19, my parents and I went to Bishop. It's a beautiful mountain town. We stopped at Meadow Farms Mahogany Meats where Ryan got to taste his first bit of jerky. We also went to Schat's Bakery, where we picked up wonderful sandwiches we ate at a nearby park.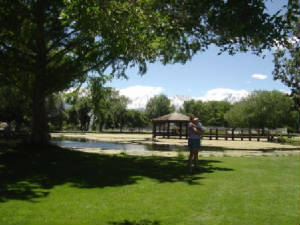 Holly and Ryan at the park in Bishop.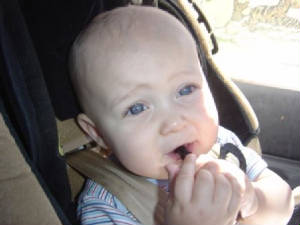 Jerky is good!
There's a really neat market in Wrightwood that we like to go to called Jensen's. It's small but has all manner of fresh produce and bakery items. They have wonderful cheese rolls that we like to munch on on the way home. June 23 was Ryan's first trip there. This link has a nice photo of the market's location.
On Saturday, June 25, my parents and Ryan and I went to Ventura beach. Having been to Daytona earlier in the month, this visit to Ventura made Ryan bicoastal before his first birthday!
To celebrate Independence Day, my parents and Ryan and I went to Tom and Jan Klausmeier's house for a BBQ. It was relaxing and fun, and it was great to see my good friends Teresa and Kris, and their daughter Abby. (The Klausmeiers are Kris' parents.) Tom and Jan have a great playground in their backyard, and Ryan enjoyed taking a little ride on the swings. Later on in the evening, my parents very kindly took Ryan home with them, to give me a bit of free time.
July 4, 2005.
Ryan on the swings in the Klausmeier's backyard.
Monday, July 11, my parents and Ryan and I went to Lake Castaic. It was Ryan's first time at a lake.
July 11, 2005.
Ryan at Castaic.
Click on the link below for more pictures from our trip to Castaic.
Just a couple of days later was our next adventure. California Adventure, to be exact! My good friend Tara and her family invited me and Ryan to visit the theme park with them. They had a room at the Paradise Pier, one of the Disneyland resorts. We drove down from Palmdale, making a stop for dinner at the Bear Pit. We met our friend Jim for dinner, which was great since I hadn't seen him in ages. After that, we drove to Anaheim and checked into the hotelroom. It was very nice, and family friendly of course. After Ryan and Tara's two boys were in bed, Tara's husband very kindly watched them so Tara and I could have a little girl time. It was wonderful walking around and catching up. (There's a mini city walk type area nearby.) The next day we had all sorts of fun running around seeing shows and riding rides. This was Ryan's first time at an amusement park, and his first time on any rides.
July 13, 2005.
Holly and Ryan at CA Adventure.
Click on the link below for photos from our California Adventure trip.
California Adventure Photo Album
Our next adventure was a visit to the Kern River on July 19. This was Ryan's first visit to a river. It was a very hot day, so it was refreshing to splash around in the cool water. Ryan also discovered what my dad calls, "river jerky," a bit of bark that looks like jerky that Ryan couldn't resist trying to put in his mouth!
July 19, 2005.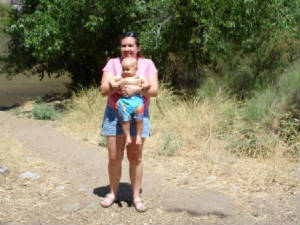 Holly and Ryan at the Kern River.
Click on the link below for our Kern River pictures.
Our move to England was at this point less than a month away. July the 20th my mom drove me and Ryan to the British consulate to get our visas. After our appointment (which consisted mostly of a lot of waiting), we met our long time friend Mariano for lunch at the Cheesecake Factory. The avocado eggrolls are to die for! I hadn't seen Mariano in years, so it was wonderful to see him again. The hostess came by and as part of a survey, asked us where we'd come from right before coming to the restaurant. We told her the British consulate, and she thought that sounded pretty exciting. It really wasn't, but it sure sounded cool!
July 20, 2005.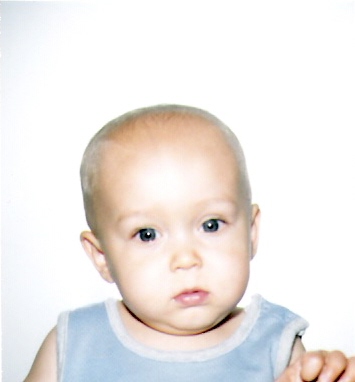 Ryan's visa photo.
Click below for snapshots of our lunch at the Cheesecake Factory.
Cheesecake Factory Photo Album
A few days later, Mariano had a big party at his house to celebrate his and some friends' birthdays. An amazing thing happened at that party: Ryan walked for the first time! A very nice boy named Paul was helping me and my mom help Ryan practice his new skill. It was so exciting!
July 23, 2005.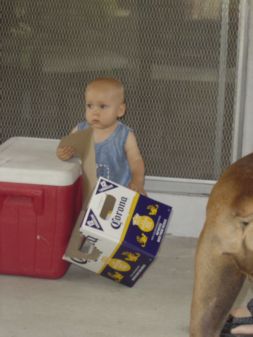 "What do you mean, we're out?"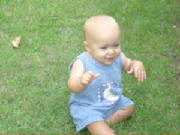 Freshly plopped down after taking a short stroll.
Does This Qualify as Camping?
Somehow my mom got him to sleep in the midst of the party. The dog kindly let Ryan use his bed.
On July 26, my parents and Ryan and I drove up to Jalama Beach and stayed the night in Lompoc. The next day on the way home we went to Henry's Beach in Santa Barbara. It was a fun, relaxing trip. Ryan did really well, and we all had a very enjoyable time.
Jalama Beach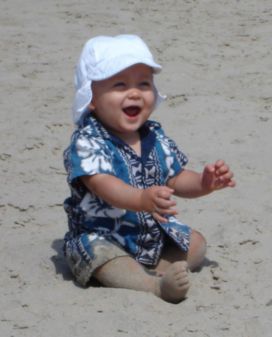 This was Ryan's first time playing in the sand on the beach. He loved it!
Click below for our Jalama/Santa Barbara photo album.