Welcome to Sunny Florida...
Our dear friends Paula and Robert live in DeLand. On June 7, Ryan and I flew into Orlando, where Paula picked us up. It was wonderful to see her and Robert again, and meet their daughter Olivia! Ryan and I stayed with Paula and Robert, who are temporarily staying with Paula's parents, Frank and Sandy.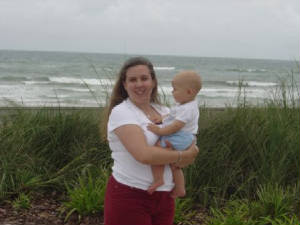 Me and Ryan at Daytona.
On June 9, Robert took me and Ryan to Daytona. This was Ryan's first time at a beach.
Geocaching
Paula and Robert are into geocaching. I had wanted to try it ever since Paula told me about it a while back. Paula took me on my first geocaching trip, to find a cache she had hidden in a local cemetery.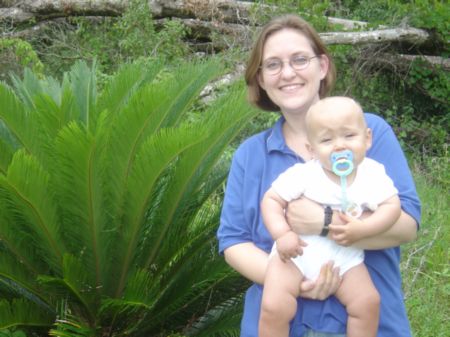 Paula and Ryan at the geocache site.
I had never been to a Hooter's before, so Paula and Olivia took me and Ryan to the one in Daytona. It was lots of fun and of course I had to get Ryan's picture taken with the waitresses!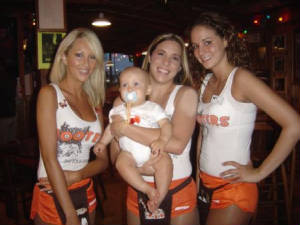 Ryan with the Hooter's waitresses.
Click on the link below for more photos from our day at Daytona Beach and our geocaching expedition.
The next day Paula, Robert and Olivia, and Ryan and I went to Hontoon Island for another geocache. Hontoon Island is one of Florida's state parks.
Later on in the evening, Robert's parents watched Olivia and Ryan while Paula and Robert and I went to the Hard Rock Cafe at City Walk in Orlando. It was fun to have some adults-only time.
Hontoon Island, June 10, 2005.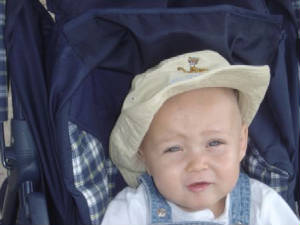 Ryan the explorer. (Hat courtesy of Paula.)
Click below for our Hontoon Island Photo Album.
On Sunday, June 12, Ryan and I took a drive to St. Augustine. (Paula and Robert very kindly gave me free use of their car during our stay.) St. Augustine is the oldest city in the U.S. It's a neat place to walk around. I parked and took Ryan around in his stroller. We window shopped and stopped at a cafe for refreshment. It's the type of place you'd really need a weekend to take in properly. I'd love to get a room at a B&B sometime and do just that.
June 12, 2005.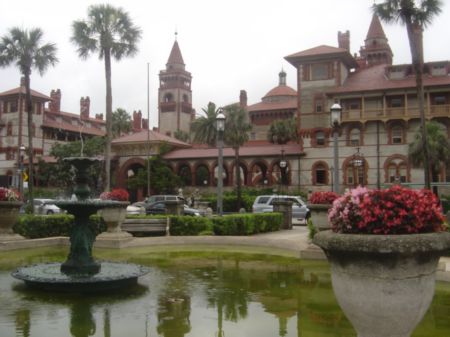 St. Augustine.
Click below for more photos from At. Augustine.
The next day, Paula and Olivia, and Ryan and I had breakfast at the Cracker Barrel, one of my favorite restaurants. We then spent the day at Sea World. Paula used to work there, so it was neat to have an insider guide. Ryan and Olivia were great, and we stayed a lot longer and did a lot more than I thought we would.
I had always thought it would be neat to do that thing where divers get a clam, open it up for you, and you get a pearl. Paula and I did that and came away with some beautiful jewelry.
During the day we saw a lot of shows and exhibits. It was a lot of fun and we had a great time!
(Special kudos to Sea World: Ryan and I got in for free as part of a military appreciation promotion. They also gave me a letter of thanks to the military members and their families.)
June 13, 2005.
Me and Ryan at Sea World.
Click below for photos from our day at Sea World.
I had been in the Layman family nearly a decade and had never met Larry's uncle Terry and aunt Carol. They live in Orlando, which is about an hour or so from DeLand. I thought it would be a shame to get so close and not come visit. Tuesday June 14, Terry came and picked me and Ryan up. We stayed the night with Terry and Carol. Ryan got to play with his cousin Dallas. We all had dinner with Larry's cousin Misty, her husband, and Dallas. I had such a wonderful time! I felt like I'd known them all along. They were so warm and welcoming. I can't wait to see them again!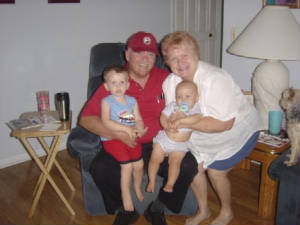 Ryan with great uncle Terry and great aunt Carol and cousin Dallas.
Click below for more photos from our stay with the Laymans.
On Thursday, June 16, Ryan and I went to Kennedy Space Center. Much of my family has worked in aerospace, and the space program has always been close to our hearts. My father has worked on almost all of the Space Shuttles. Growing up near Edwards AFB, I got to see Shuttles land, and even got to see the Challenger up close as it was towed down 10th Street East at sunrise. Being able to finally visit KSC had special meaning for me.
Kennedy Space Center Visitor's Complex
June 16, 2005.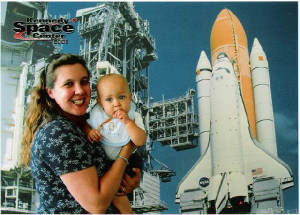 Me and Ryan at Kennedy Space Center.
Click below for more pictures from our visit to KSC.