August 2005.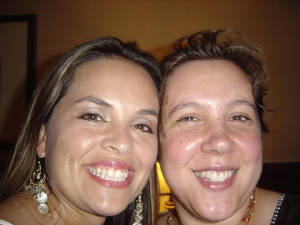 Me and JoAnna, ready to party!
JoAnna and I stayed at the Monte Carlo. During our trip we shopped, got spa treatments, took in a show (Zumanity at the New York, New York), and also hung out in a fun piano bar. We went to the Freemont Street Experience. In all the times I've been to Vegas, I'd never gotten to go to the Experience before. JoAnna took me to a really nice restaurant there called Hugo's Cellar.
We walked around Freemont Street and I couldn't help but think of U2's video, "I Still Haven't Found What I'm Looking For." We got to see a couple of light shows on the huge canopy. We also tried out an oxygen bar. If you ever want a really clear head, that's where it's at.
I had a really great time with JoAnna in Vegas!