Larry at the first pub, next to the patron saint of beer.
After dinner we decided to go on a pub tour. Three beers were included with the price of the tour! We headed back to the Astronomical Clock to meet the tour. I had a feeling it was going to be a fun group. After all, wouldn't the type of people who would sign up for a pub tour be fun?
Our guide's name was George. He was friendly and very knowledgeable. It did turn out to be a fun group. Everyone was friendly and there to have a good time.
The tour began and we had to walk through an area under construction to get to the first pub. George told us a bit about a couple of places we passed by (I can tell you where Bill Clinton sat down for a cold one). George also gave us a little background on the first pub, Restaurace u Uejvodu, before we went in.
Inside the pub was a small statue representing the patron saint of beer. Of course Larry had to have his picture taken with it!
The pub had a good ambience and an airy feeling to part of it. The pub section was kind of tucked away in a corner, while the restaurant part was open with a lot of natural light. In the corner opposite the pub was a big copper beer brewing vat.
George showed us on a map where various Czech breweries of note were. Something Paula mentioned stood out to her was George's enthusiasm for what he was talking about. He was definitely interesting to listen to.
Photo by P. or R. Tedrow.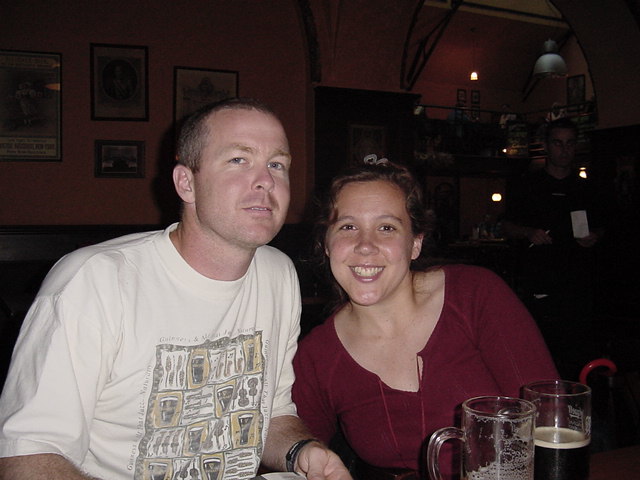 Larry and me in the first pub.
For our first beer we could choose a dark, light, or mixed beer. Mostly everyone chose dark. Even though I'm not one for beer, I thought I'd be game and get one. I ordered a mixed beer. When our beers arrived, Larry had me taste his. I liked the dark beer a lot better, so Larry switched with me. I decided I'd do my best to finish a whole beer, something I've never actually done before! I had another goal as well: to beat Robert and finish my beer before he finished his. (By this time in our trip, it had been established that Robert took his time enjoying his beers.) I did my best, but Robert outpaced me around the middle of the beer. I kept up until then though!
Robert was almost done with his beer when he got up to use the restroom. Upon Paula's urging, Larry drank the rest of Robert's beer! Robert was very indignant. He didn't leave his beer unsecured after that!
I almost finished my beer, but we ran out of time so Larry did the honors.
Photo by R. Tedrow.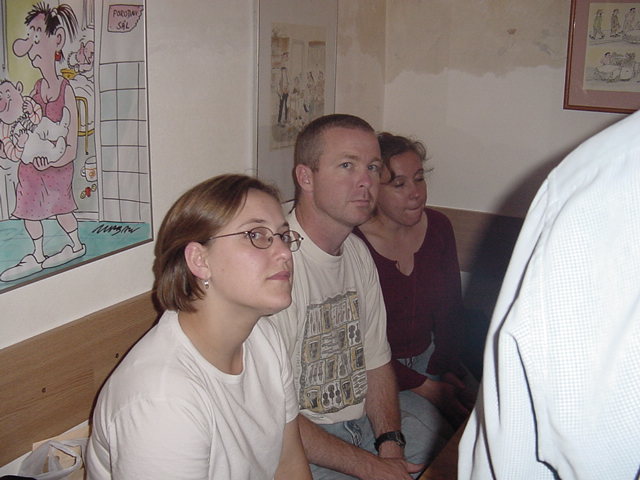 Paula, Larry, and me. You can see the cartoons and the marks from the floods on the walls behind us.
The second pub was hot and stuffy. The walls were decorated with off-color and dark humor cartoons by a famous Czech cartoonist. I didn't like this pub so much. I think the name of it was Pivrncova Hospoda. It was interesting though because on the walls you could see the marks from how high the devastating floodwaters from last year had gotten.
This time I ordered wine instead of beer. Seems all they serve over here is Müller Thurgau!
Photo by P. Tedrow.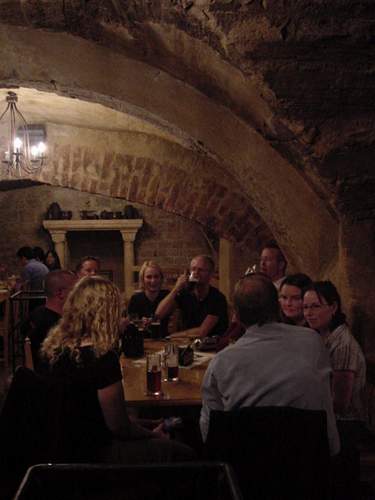 Our tour group in the last pub.
The last pub stop was possibly the most enjoyable. During the evening, the group had started to get to know one another. We were with a very nice group of people about our age. Two of our companions were from Australia and New Zealand, both living in London. Our other five companions were Norwegian, from Oslo. They were all really cool and very interesting to talk to. By the time we got to the last pub, conversation was flowing freely. What surprised us all a little bit was that our Norwegian tour companions loved South Park! It was kind of scary how long we all talked about it!
I really liked this pub. It was all brick and had sort of a subterranean feel to it. The service wasn't all that great, but the vibe of the place was. I had yet another glass of Müller Thurgau!
After a while, George had to leave. We gave him a round of applause, thanked him, and took up a collection for a tip. George was working towards a PhD and apparently this was his day job. The average income for a Czech is about $4000 a year, so every bit helps.
Photo by P. Tedrow.
Larry and me in the last pub of the tour.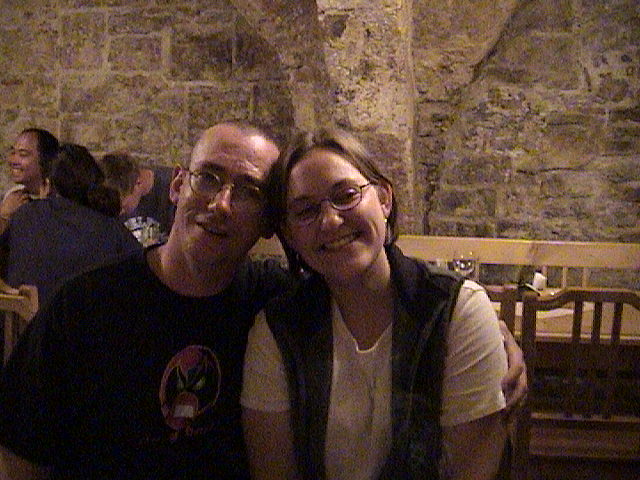 Robert and Paula in the last pub of the tour.
All in all, we had a great time and met some fun, interesting people. We had to leave to make sure we caught the metro back to our hotel. We went back to the Irish pub from the night before. The same waitress was there, wearing the same top she had on the night before. (Why I notice these things, I don't know.) She brought us our first round of drinks then informed us that was it. It was only 11:20pm and they closed at midnight! Oh well. Around midnight we went back to our rooms, agreed on when to meet in the morning, and went to bed.