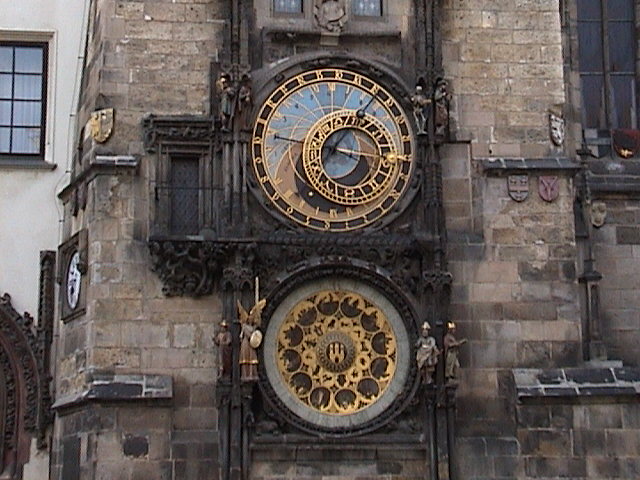 Astronomical Clock
It was still fairly early when we gathered up to figure out what to do. There were a lot of flyers on tours and such at reception that were very helpful. We all agreed dinner would be in order sometime soon. I had always wanted to do a ghost tour, and it just so happened that there was one at 8:30pm. We weren't sure if we could make it in time, but we thought it might be fun.
The tour met at the famous Astronomical Clock (Orloj), so we figured we'd head out that way, get a bite to eat, and join the tour, time allowing. We headed out to the metro station. It looked cool. The walls were metallic and brightly colored. It was our first time in a Czech metro station, so we weren't sure quite what to do. We eventually figured out that you get your tickets at a tobacco shop. We purchased a three-day ticket and used that for the duration of the trip. I am so glad Larry is so good at figuring out which trains to take. I'd be literally lost without him.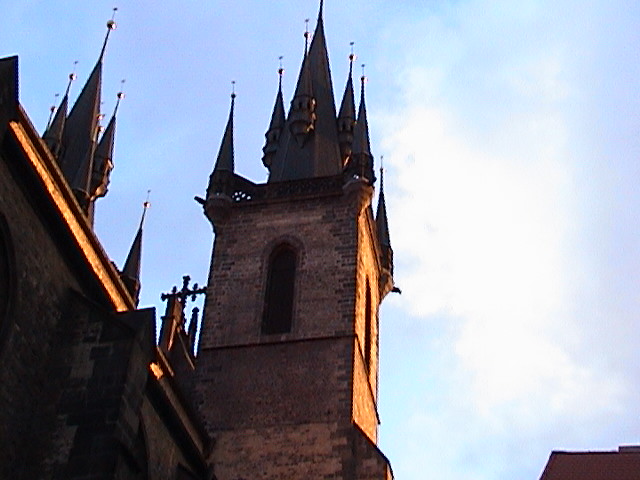 We got to Old Town (*Staré Mesto). The late evening sun lit up the square against a backdrop of clouds, making for quite a dramatic view. We wandered around a bit and found a place to eat right across from the Clock. (Please visit Paula's Virtual Tourist page for the lowdown on the places where we ate.) The menus were in Czech, English, German, and Russian. It was fun comparing.
Click here for Paula's website.
I had a drink called a, "Silk Stocking." I don't remember what all was in it, but it was pink. I didn't care for it much. The garnish was interesting. It was an orange colored fruit of some sort that color aside, resembled a cherry tomato with dried brown leaves still attached. My entrée was a chicken kabob with apricots and plums. It wasn't bad. Larry had the goulash soup. We dined outside, which was nice. We could people watch and when the time came, watch the Astronomical Clock at the hour.
We actually made the 8:30pm tour. However, before we ate dinner, Paula and I spoke with a man that had a 9pm tour. He said he would give us a "special discount" and would look for us. We felt kind of bad about not taking his tour.
Photo by P. Tedrow.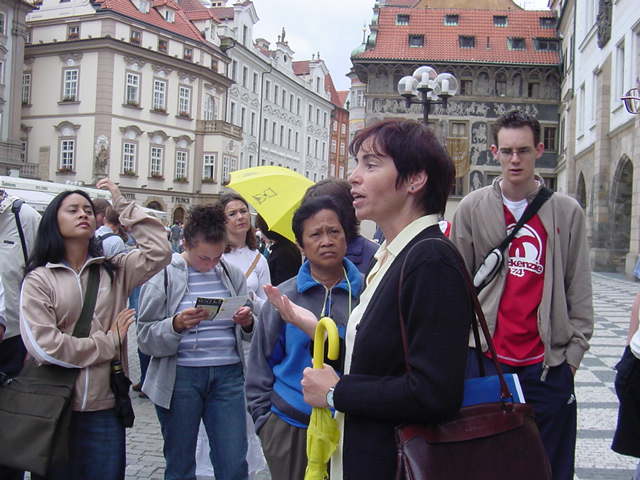 Our tour guide, Nina.
The tour was somewhat interesting. Our guide, Nina, was a Czech native. She took us to semi-scary places and told us semi-scary stories. She spoke in sort of a grave, dry tone, in keeping with the tone of the tour. Later we figured it would probably have been more fun if it had been dark. (During the summer in Europe, it doesn't get full dark until well after 10pm.) I suppose we ought to have taken that 9pm tour after all!
Part of the deal with the tour we were on was a free drink in a pub. I think the name of it was, "Zdar." We went down into a brick cellar decorated with antique cameras. The Beatles music playing seemed a bit incongruous with the bunker-like appearance of the pub.
I didn't want a beer, so I asked for white wine. There was Czech wine on the menu, but it was only available by the bottle. The only other option was Müller Thurgau, a German wine which isn't bad, but it's definitely not my favorite. The waiter tried to tell me it was a Czech wine, but I know better!
We didn't care much for the ambience at this pub. We decided to go back to our hotel and find a pub nearby. We walked a little and found an Irish pub. The waitress wasn't very friendly. I tried to order some ice cream, but she told me flat out, "No food." I am guessing that was because it was after 11pm and maybe they didn't serve that late. I had some wine - more Müller Thurgau! - while everyone else had beer. Larry is quite the beer connoisseur, and especially enjoys Czech beer. I am not one for beer (which puts me at somewhat of a disadvantage at a pub), but have tasted the Czech variety and must admit it's something special.
We only got to order one more drink before the waitress told us that was it. I ordered some Bailey's and was shocked to discover how expensive it was. Not only that, but they measured it out in centiliters!
After that we went back to our hotel, decided when to meet in the morning, and went to bed.
Photo by P. Tedrow.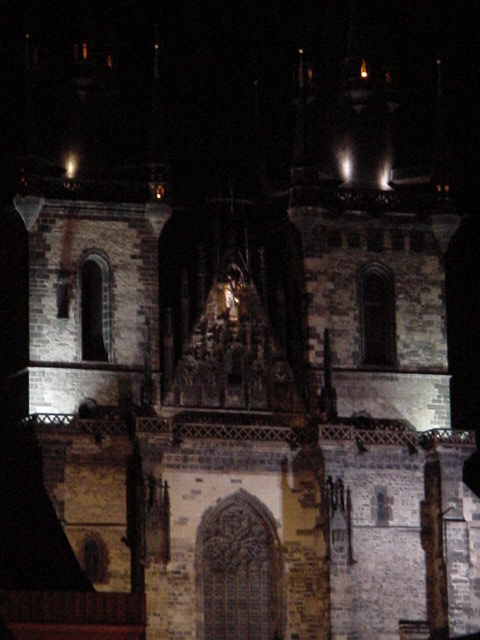 Tyn Church at night.