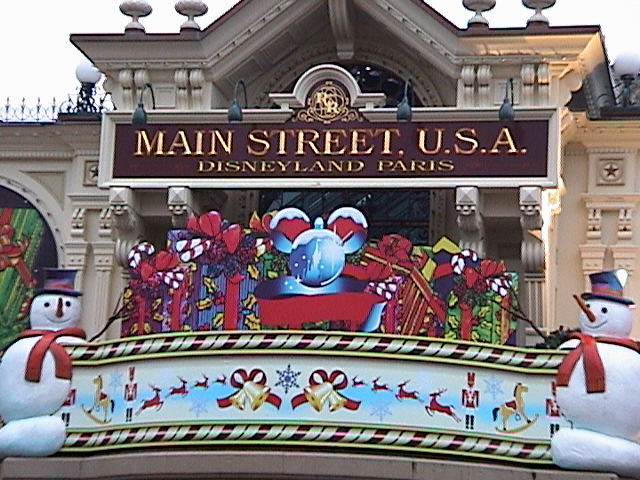 The next morning we decided for expediency to eat breakfast at the hotel. It was good, if a bit overpriced (about 9 euro a person). It was the typical European style buffet, with meat, cheese, bread, cereal, juice, coffee, etc. I had to have a croissant, for similar reasons to the quiche the day before! Breakfast hit the spot. I've gotten used to this type of breakfast and look forward to it when we travel.
Our destination for the day was Disneyland Paris! By this time we were getting pretty good at using the metro and trains. It seemed we had to go really deep underground to get to the right one for Disneyland. There's a lot going on in the tunnels of the metro. Not only is it busy with all the people coming and going, but in some places it's almost like an underground mall. There were also musicians here and there, playing for handouts. Unfortunately, there are bums looking for handouts, too. One bum had a cat and a dog. It made me sad and worried for the animals.
It took about an hour or so on the train to get to Disneyland. When we got there, there were more people than I had expected. I thought this time of year would be an off season, with the cold weather and all. Admission was on the expensive side, more so than I expected as well.
Click here for Disneyland Paris' website.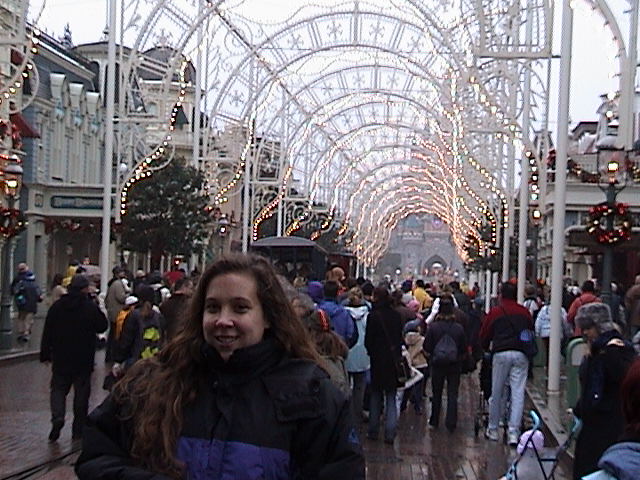 Me on Main Street.
We had a really fun day and a great time. Seeing the sign, "Main Street U.S.A." actually brought tears to my eyes! Everything was so colorful, and also extremely clean. There was festive music playing as we strolled down Main Street. Just at the perfect moment, a light snow began to fall. It was magical. Larry and I realized though that the snow wasn't real. It was made of soap chips. I couldn't see where it was coming from. It looked for all the world like it was falling out of the sky. Even though the snow was fake, it couldn't begin to dent our enthusiasm. Larry and I felt like two little kids. I couldn't wipe a silly grin off my face. It was just fun to be there!

They had a lot of the same things that they do in California, only condensed into a smaller space. The only thing that was glaringly missing was the Matterhorn. The things that were there had a different twist to them, which in a lot of cases was cool. It's weird though because the target audience is mostly European, but it's their take on Americana. Strange. Americana for the international community.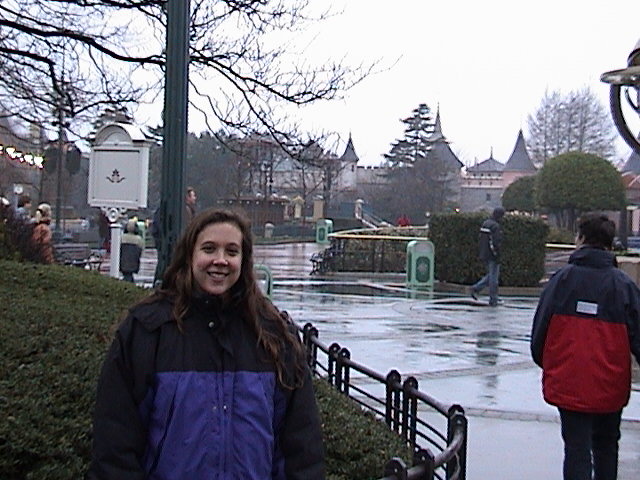 I could NOT get this grin off my face!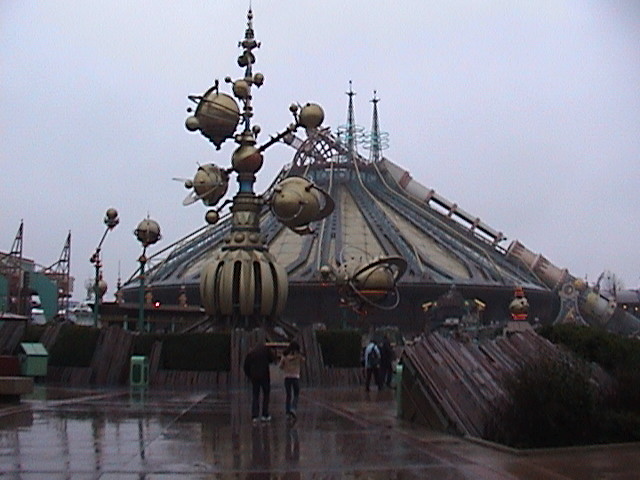 Space Mountain
Tomorrowland, called "Discoveryland," in Paris, was one of the first places we went. It's been a few years since we've been to Disneyland in Anaheim, but the Tomorrowland there seemed to always have a 50's feel to it. The Discoveryland in Paris seemed to be more modern. Space Mountain was really neat. It was a lot different. The roller coaster itself seemed more intense.
One really nice thing about our visit was that none of the lines for anything was longer than about five or ten minutes. Even though it was winter, pretty much everything was open except for Autopia and the Nautilus submarine ride.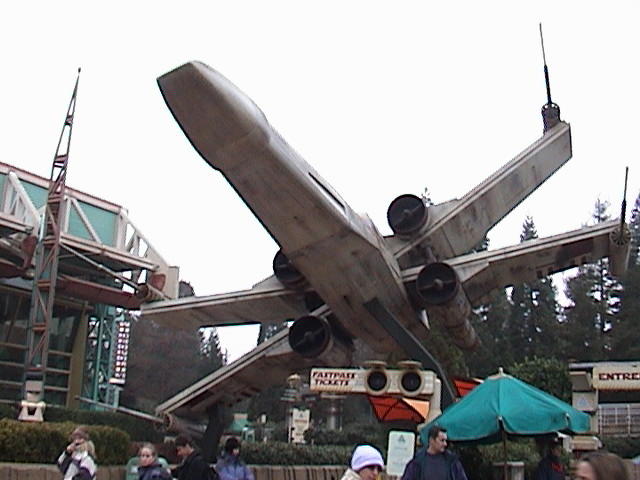 X-Wing Fighter in Discoveryland.
Phantom Manor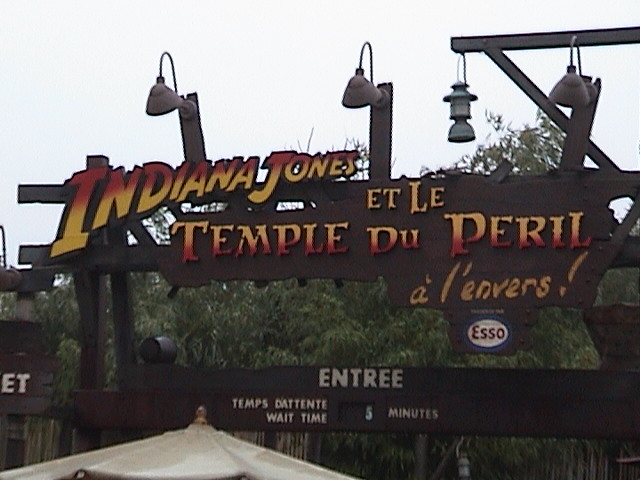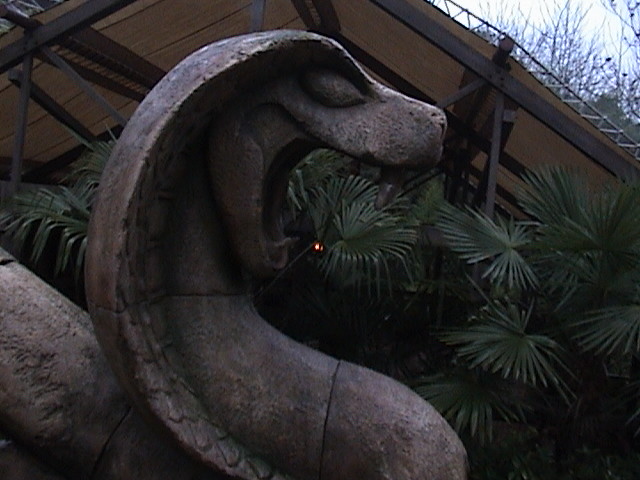 Larry and I really liked this snake decorating the outside of the ride.
We went on Star Tours, which was funny because it was mostly in French. It was interesting what was in French and what was in English. Throughout the park, mostly both languages were used in stores and on signs, menus, etc. On Big Thunder Mountain some of the props in the scenery had English words on them. However, we went on "Indiana Jones et le Temple Du Peril," instead of Indiana Jones and the Temple of Doom! The Haunted Mansion was called, "The Phantom Manor." It had different expanding paintings in the front, and was missing the lady that says, "Come ba-ck" at the end. Otherwise, it was pretty similar.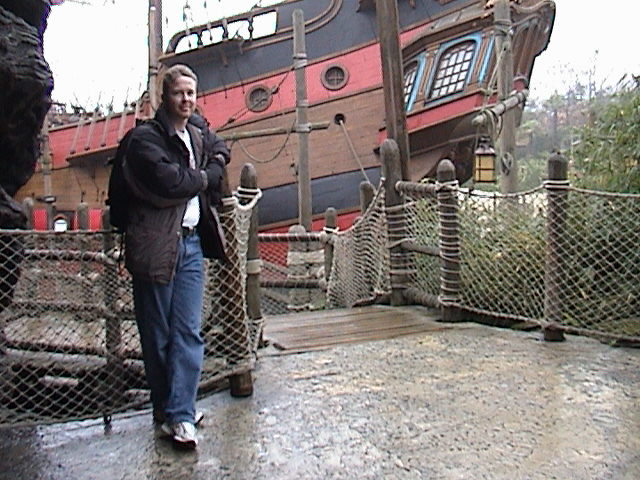 Larry in front of Captain Hook's Galley.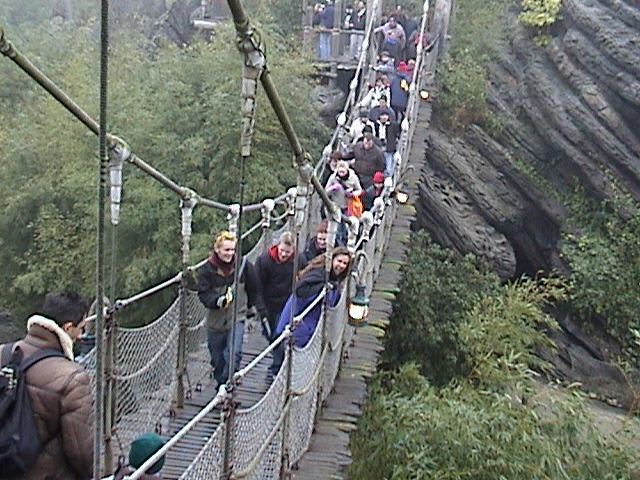 A moment ago it was all clear for a photo, then a bunch of people came!
Larry next to Skull Rock.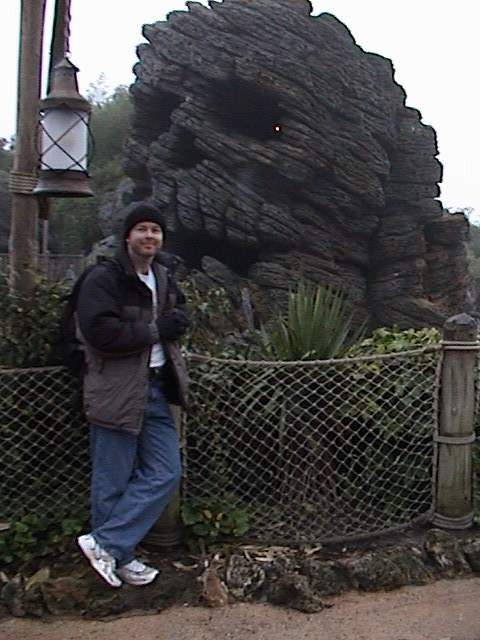 Larry really liked this rock!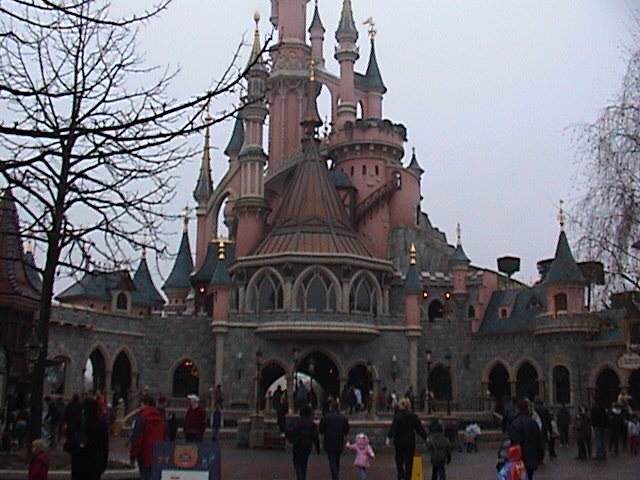 The Magic Castle.
We had a great time making our way through Discoveryland, Frontierland, Adventureland, then to Fantasyland. Ironically, the castle there looked decidedly NOT like Neuschwanstein, the German castle after which Walt Disney patterned his Fantasyland castle. It's A Small World was pretty similar, however it lacked that 50's nostalgia that seemed to permeate a lot of Disneyland in California. At the end of the ride was a really neat room for kids that seemed to condense all the major world landmarks into one place. It was sunken into the ground and parents could watch from above. Larry and I would have gone down in it, but it was pretty crowded.
It's A Small World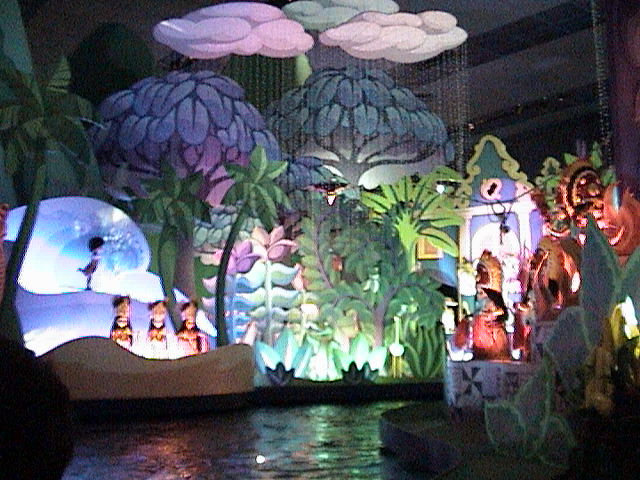 I like the rain effect at the one in Anaheim better.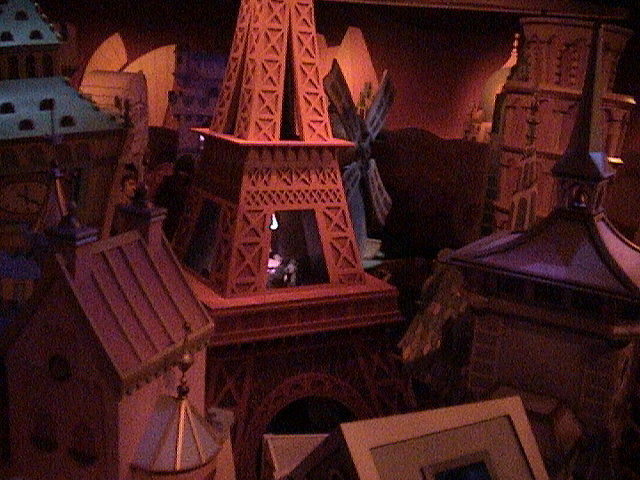 I had no idea you could fit all the world's landmarks into one room!
Growing up I had always wanted to see either the Disneyland Main Street Electrical Parade, or one of the Christmas parades. Just a day after my twenty-ninth birthday, I finally got my wish! We made sure to find a good spot in plenty of time to watch the parade.
It was everything I imagined it would be. The parade was set to the music of "The Nutcracker." There were all sorts of dancers in festive, colorful costumes. Traditional characters from The Nutcracker were intermixed with Disney characters like Cinderella and Sleeping Beauty. At the end was Santa and his sleigh, pulled by four somewhat unmotivated looking "reindeer." Reindeer aside, the parade was full of energy and Christmas fun.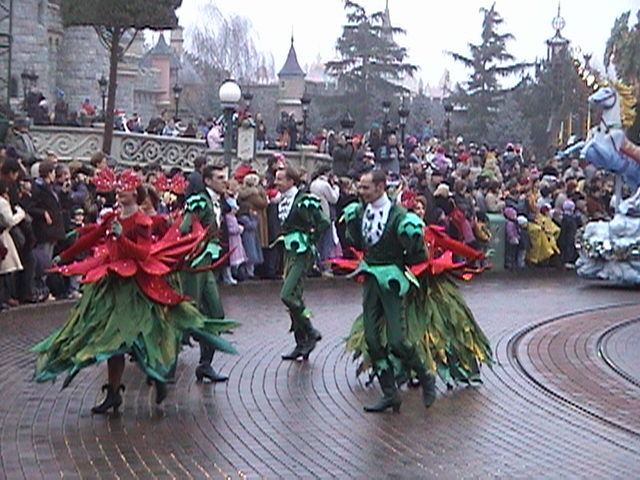 I think these are supposed to be poinsettias.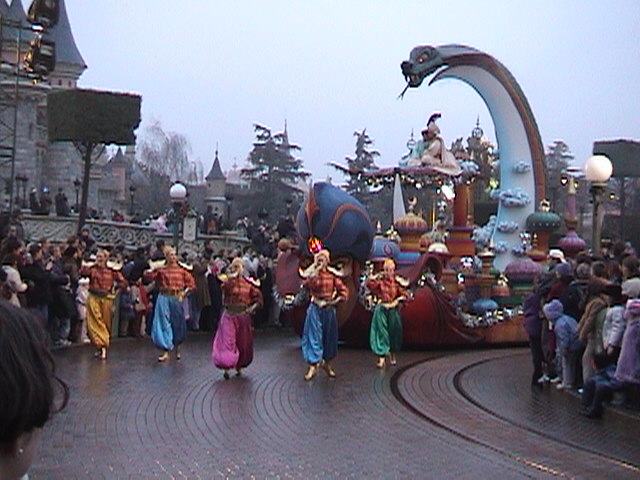 Aladdin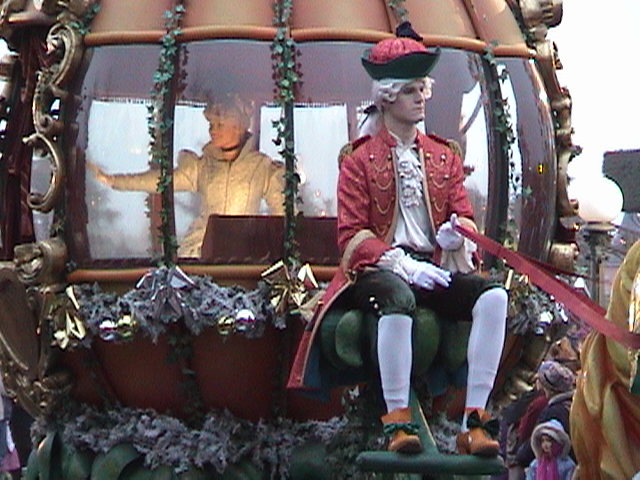 Cinderella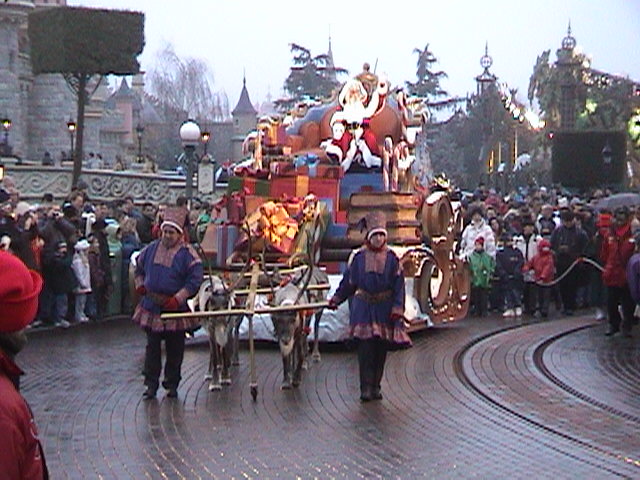 Santa and four reindeer.
Please visit the photo gallery for more photos from the parade and the rest of our trip.
After the parade, we wandered around a bit making sure we didn't miss anything. We found a neat cove with a very life-like dragon in it. We also did some shopping. In a very romantic gesture, Larry sneaked away for a moment to buy me a silk rose!
One unexpected bit of fun came from the "Honey, I Shrunk the Audience" show. We went in pretty much because there wasn't a line and it was starting soon. We had to wait a few minutes in a big room with multiple video screens set up. We were pretty sure we were watching some sort of social engineering project disguised as a Kodak advertisement (or was it the other way around?) set to Cyndi Lauper's "True Colors." That aside, we really enjoyed the actual show. You wear 3-D glasses and sit in a movie theater with a big screen. The chairs shake or puffs of air come at you during certain points in the show, making you feel like you are really a part of what's going on. Our favorite was when the dog sneezed and water was spritzed on us. It was gross, but in a really fun way!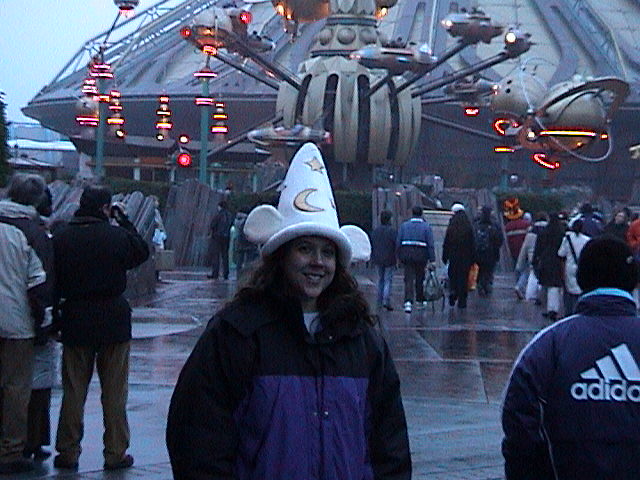 I LOVE this hat!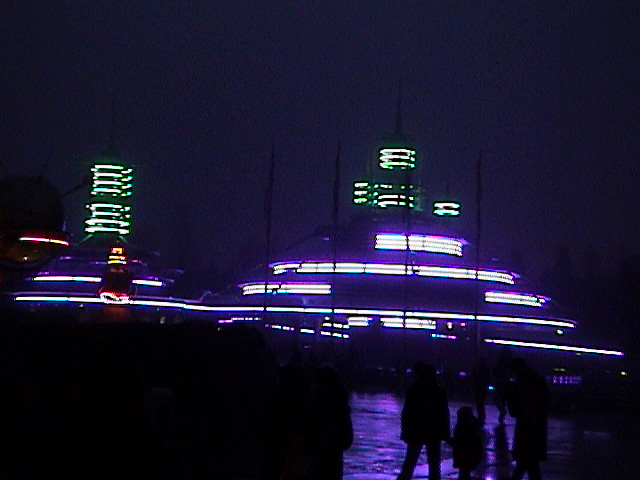 Discoveryland at night.
One souvenir I always thought was neat were those wizard type hats with the ears. Larry was sweet and indulged me. It worked out well because as it got dark, the temperature began to fall and the hat helped keep me warm. I don't think Larry counted on how much I liked my hat. I wore it out of the park and onto the train and didn't take it off until other people got on our train!

When we were ready to go, we looked around for somewhere to eat. Unfortunately, the buffet restaurant near Main Street was closed. We had no idea it would close as early as it did. We looked up and down Main Street but either places were closing or just didn't appeal to us. We were getting a bit cranky from being hungry and tired, when suddenly we were treated to a wonderful show. At night, there's a light show on Main Street that's beautiful. I was glad we were there to see it. Again, the snow fell perfectly on cue, no less magical for its contrivance.

I'm truly glad we went to Disneyland. Larry and I had a wonderful, great time and enjoyed ourselves tremendously. It's good to still feel like a kid sometimes, and experience the magic of "the happiest place on earth."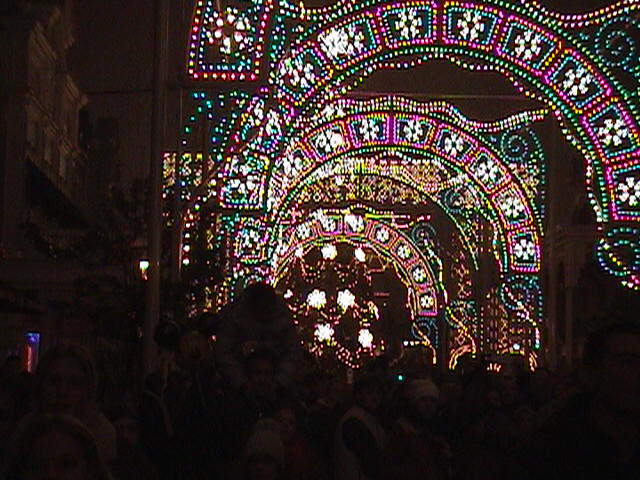 Light show on Main Street.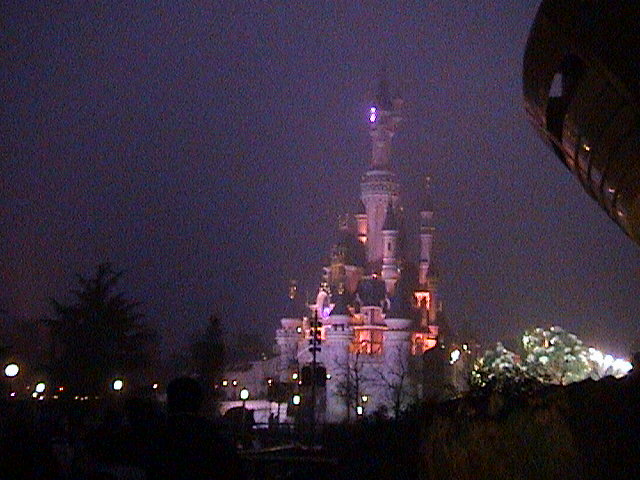 Magic Castle at night.
There happened to be a Planet Hollywood nearby, so we decided to eat dinner there. Bad choice. The service was good and the movie trivia ambience was fun, but the food wasn't all that great. It was overpriced and didn't really taste like anything. I had this bizarre lasagna that was somehow rolled up and fried. The waiter offered to get me something else, but by then Larry and I just wanted to get back to our hotel.

There's a train station nearby, so we walked over to it. It was getting late and not all the lines were running. Larry is usually uncannily good at figuring out the right train to take. We saw a sign indicating the line we wanted, so we got on the train. It was indeed the right train. The lights were on and there were a few other people on board.

Something in French was said over the intercom. Unfortunately, we didn't understand it. The other people on the train got off. Larry and I weren't sure what to do. We hesitated a bit too long. The doors shut and the lights went out! A short while later the train started moving - backwards. It quickly became apparent they were putting the train away for the night.

We were looking for a way off when the conductor came through. He spoke a little English and was very nice. He took us back to the platform and pointed us at the right train. We were extremely embarrassed and felt pretty lame. We had to admit it was pretty funny, though.


Click on the above link for the next day's adventures.