National Railway Museum in York (NRM)
Topic: Day Trips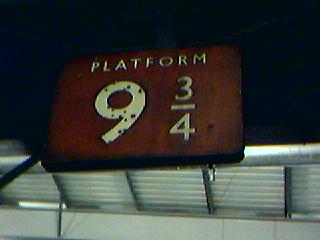 I know where Platform 9 3/4 is... or at least the sign for it!

It's at the National Railway Museum (NRM) in York! Monday, Larry and Ryan and I took a trip there. (Unfortunately I forgot the camera, but I had my phone, so I snapped a quickie of this!) http://www.nrm.org.uk/events/index.asp (I recommend checking out the website.) Entrance to the NRM is free, which is all the more amazing given the depth and scope of the displays, which span over 300 years. Of course Ryan loved seeing all trains in their full sized glory. He wanted to climb on them, which unfortunately is quite frowned upon!

We spent quite a while walking around, looking at all the trains. It was a really nice day out.
Posted by hkvlayman at 4:25 PM BST