The next morning we had breakfast at the hotel. It was a nice spread, with the typical European style breakfast: bread, cheese, cold cuts, hard boiled eggs, yogurt, cereal, fruit. They had a cool little espresso/cappuccino machine, as well as juice, coffee, and tea. When I first got to Germany, I never thought I would adapt to this sort of breakfast, but now I actually look forward to it when Larry and I travel.
We decided to catch a city tour bus to get oriented and see the sights. Our first stop was Checkpoint Charlie. This was a high point for Larry, though our whole visit to Berlin had extra significance for him as both a historian and soldier. The actual checkpoint is gone, but there is a guard shack and a museum: The House at Checkpoint Charlie.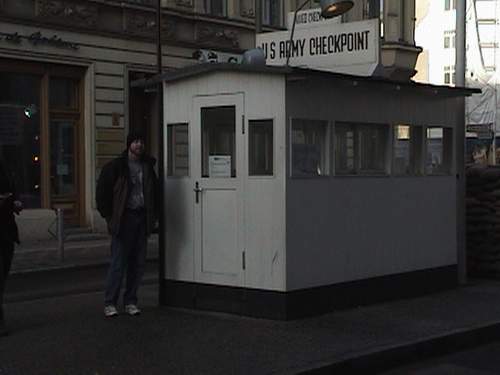 Larry by Checkpoint Charlie.
The museum is fascinating. There is a lot of information both in English and German about the entire period surrounding the Berlin Wall and Checkpoint Charlie. There are also many displays about escape attempts, some successful, some unfortunately not. It never ceases to truly amaze me the lengths people will go to, the risks people will take, and the sacrifices people will make to be free. I try every day never to take the freedom I have for granted. Being at a place like Checkpoint Charlie is a stark reminder of how fortunate American citizens are.
We had some free time before having to get back on the bus. We had lunch at a café across from the museum, then walked down the street in what was once East Berlin. It was really strange to be somewhere that had major historical events take place not so long ago.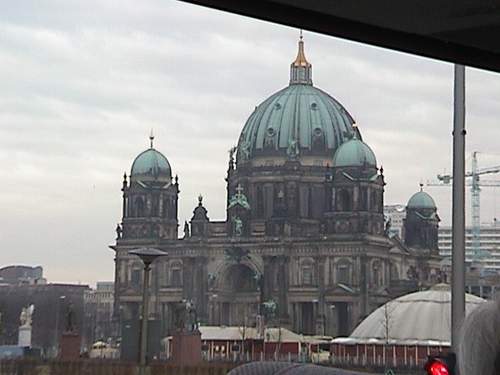 Berliner Dom.
Our next stop was the Berliner Dom, or Berlin Cathedral. I always enjoy visiting cathedrals around the holidays because they are usually decorated with more candles and greenery, as well as nativity scenes that are always interesting and most times beautiful.
There is access to the crypt, which we checked out. The crypt was pretty freaky. Larry and I didn't like it at all. There were all these ornate coffins that seemed to be monochromatic in the dim light of the crypt. Some of them were tilted at an angle, giving the absurd impression that they were lurching from side to side. The coffins came in all sizes. The itty bitty ones were the saddest. It just seemed like the coffins ought to be buried in the earth, not on display in a room. It felt unfinished. It also felt ghoulish knowing that all these dead bodies were all around us (approx. 100). We didn't stay long. It just seemed wrong somehow.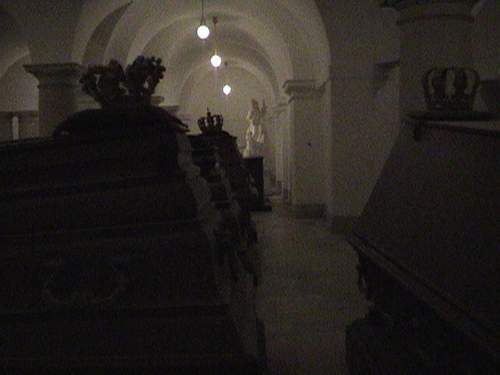 Berliner Dom crypt.
View from the dome of the Berliner Dom.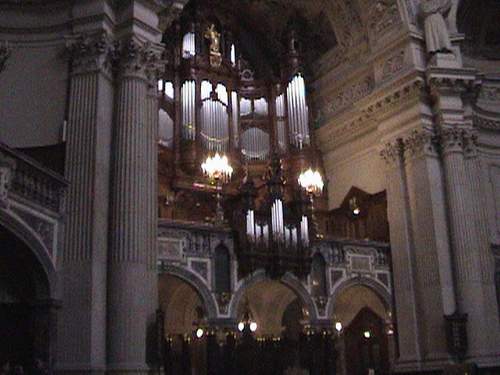 Berliner Dom pipe organ.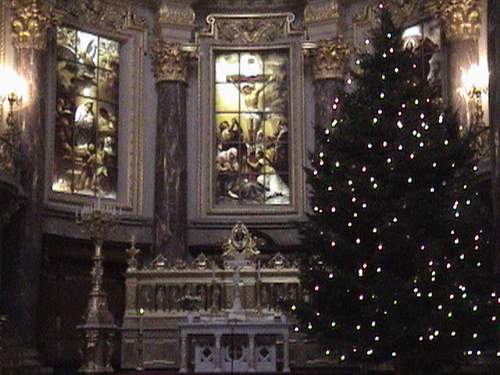 Inside the Berliner Dom.
There is also access to the cathedral's dome, which affords a great 360-degree view of the city. Given half a chance, I always like to climb up and take a look around.
The cathedral itself is beautiful inside and out. It has a very impressive pipe organ, and the ornate décor one can expect from any cathedral in Germany. The cathedral is located on one side of Berlin's Museum Island, the home of Germany's first museums. The park square in the center of the island is called the Lustgarten. It's not what it sounds like! "Lust" is a German word for joy or pleasure, and "garten" is a sound-alike for the English word, "garden." It simply means a place to kick back and relax.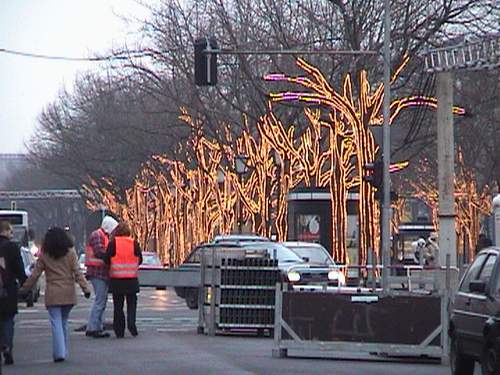 Unter den Linden Str.
From there we walked down Unter den Linden Straße (street). (The street's name means, "under the lime trees.") There is an interesting mix of things along this street, including the opera house, the Russian embassy, and various shops and cafes. It's also home to Humboldt University. We came across a Christmas market that was still open and got ourselves a warm mug of glühwein. (Christmas Eve is usually the last day most Christmas markets are open.)
The trees along this street were also lit up, but in an entirely different way than the first ones we'd seen. There were horizontal, parallel long lines of light running up the trunks. It looked really strange to me, especially after seeing the trees in other parts of the city.
There was something else we were very happy to find on Unter den Linden: a Starbucks! Of course we had to get ourselves a cup of one of Starbucks' famous concoctions. (There are actually something like five Starbucks in Berlin.)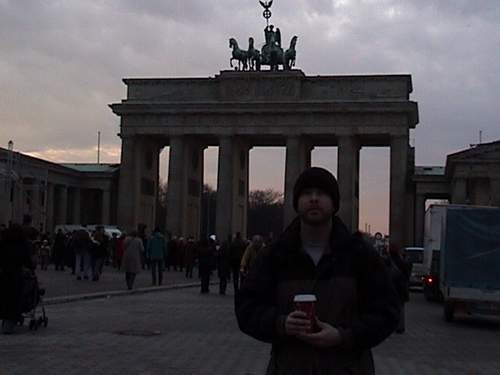 Larry with coffee in front of the Brandenburger Tor.
At the end of Unter den Linden is the Brandenburger Tor, or Brandenburg Gate. It was amazing to see this symbol of Berlin. It is pretty impressive.
We walked through the gate and around the corner to the Reichstag, which houses the Bundestag, Germany's Parliament. There was quite a line to get in and it was getting late.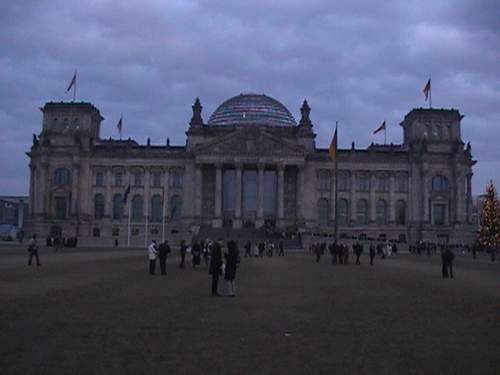 Reichstag.